Great show, PLUS a garage sale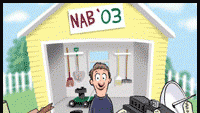 This year's NAB convention was the opposite of last year's show. No more downtrodden exhibitors. No more look-but-don't-spend attendees. No more doom-and-gloom faces.
Lower attendance, yes. But also higher quality attendance. Just like the good old days, sales were made from the show floor and some were significant. One company reported selling out of the entire first run of their new product. Exhibitors reported that while booth traffic was down (disregard NAB's attendance figures) they were pleased with who they saw.
The sessions were filled with strong presentations and speakers covering just about every topic you could imagine. Additional eating venues were available with adjacent seating. Yea! Sometimes all you want is a cool drink or a cup of coffee and a place to sit for 10 minutes. Note to NAB: Adequate seating near food venues is as important as catsup for the fries. Besides, you can now afford to devote the space.
There was lots of high technology on display… Sony's optical disk system, Panasonic's solid-state camcorder and new HD products. Also, there was JVC's new HD camcorder and the Focus Enhancements FireStore DV5000 DVR. You might have missed some of these products because of standing room-only crowds in the booths.
Mixed among the TBCs and video servers were at least two nontraditional booths. The first was the golf club booth in the South Hall. Yep, right there on the NAB show floor you could buy your next set of golf clubs, a new bag or golf accessories. The guy seemed to be doing good business.
But wait, there's more. The best example of a nontraditional exhibitor was located in the Central Hall next to the concession stand. For want of a better description, it was a garage sale. For instance, you could buy all the consumer software you wanted. Each software CD was $10 or three disks for $25. Hot titles, too, like Landscaping, Hackers and Crackers tips and cheats, Puzzles, and Clip Art. Just the thing for that professional application, right?
Next to the software was the really good stuff. Want a combination screwdriver and flashlight? How about a reading light shaped like an eagle? Key chains, small books, you name it. How about tools? This booth had them. A complete socket set for five dollars. A drill for three dollars. Are you into knives? Complete sets of knives, from steak knives to throwing knifes, were available for sale. Just don't leave those in your carry-on luggage!
However, the best item for sale in the booth was a Slim Jim. This is the tool thieves use to unlock car doors. In this booth you could buy your own Slim Jim kit, complete with multiple tools and rods that allow you to unlock any car door ever made. And the best part of the kit is that it came with complete instructions! Simply look up the model of car you want to get into and the manual shows you the correct tool and exactly how to use it to break in, I mean unlock, that particular car.
Unfortunately, exhibitors must have felt threatened by all this high technology because by Day Two the garage sale had been booted from the show and the space transformed into a seating area.
NAB '03 had about everything from AARP to Zenith — plus a garage sale. Who could ask for more?
Send comments to: • editor@primediabusiness.com • www.broadcastengineering.com
Get the TV Tech Newsletter
The professional video industry's #1 source for news, trends and product and tech information. Sign up below.