Shooting Multi-View with SmallHD Monitors
The multi-view feature on the SmallHD 4K production monitors is excellent, but it is the overall SmallHD and Teradek ecosystem that keeps me coming back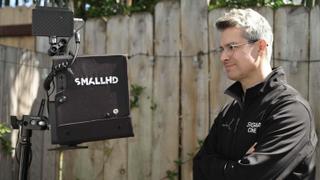 (Image credit: SmallHD)
LOS ANGELES—Most, if not all, of my shoots require monitoring multiple cameras at the same time and SmallHD OS5's addition of multi-view in late 2022 streamlined huge aspects of my work for both myself and my AC (assistant cameraperson) and video village techs.
Prior to OS5 we relied on third party devices that require their own power, mounting hardware and cable support and thus were adding additional failure points to a critical part of the set infrastructure that most department heads rely on to do their best work: "video village," where monitors and playback have been set up for the director and other members of the production team.
Having integrated multi-view means as many as four cameras can be viewed on the same SmallHD monitor, which saves time and removes the need for additional (sometimes heavily used) camera feed splitter rental equipment.
4K Cine 13 For Mobility
I became an early adopter of the Cine 24 High Bright monitor from SmallHD and only recently added a SmallHD 4K Cine 13 for the added mobility in the field. Monitors and the accompanying technology have never been an area where I like to cut corners — you should have a great deal of confidence in the image you're capturing and thus I'm quick to jump on the latest and greatest tech when it comes to monitors especially.
Both monitors have a gorgeous UHD 4K 10-bit display that I depend on for every shot and I often turn to the multitude of built-in exposure tools like Waveform and False color to make sure my shadows and highlights are landing where I need them. The streamlined exterior design of the Cine 13 and Cine 24 gives us plenty of mounting points alongside the variety of 12G and HDMI inputs and outputs.
Several of my most recent shows have required me to utilize multi-view on projects like "Dimension 20" and "Game Charger" for College Humor and also the "Informer" series for VICE. We tend to use a combination of both Teradek 6 Bolt wireless and wired inputs into the back of our SmallHD monitors and we rely on wireless for movement heavy handheld, gimbal or Steadicam shots and stationary cameras are often fine utilizing 12G BNC cables.
It's the Ecosystem
The multi-view feature on the SmallHD 4K production monitors is excellent, but it is the overall SmallHD and Teradek ecosystem that keeps me coming back to this hardware again and again. Having integrated distance markings in the form of RT Overlays with the Teradek RT has been a huge hit with my assistant camera team and lately I've also been impressed by the newly released EL Zone exposure tool and how useful it is for making tricky exposure calculations on the fly.
For me, I'll be using multi-view long into the future as production schedules become truncated and we're gently pushed to capture more shots faster. More shots means more cameras and SmallHD's production monitors alongside their accompanying digital toolset is helping keep my job as a DP as stress free as possible.
For more information visit https://smallhd.com/
Get the TV Tech Newsletter
The professional video industry's #1 source for news, trends and product and tech information. Sign up below.
Emmy-award winner Graham Sheldon resides in Los Angeles where he works as a producer and director of photography. His feature film work includes: ""The Right Girls", "Ms. White Light" (SXSW 2019), "The Good Catholic", "Dry Blood", "American Hasi", "Analog Love", "The Concessionaires Must Die!", "Back to Lyla". Past clients include: Legendary Digital Networks/Nerdist, College Humor (Dimension 20 S15, Game Changer S5) NBC, VICE, VICE World News, Disney, Dell, Ubisoft, BBC, TLC, iTV, Discovery, PepsiCo, PBS, Nestle, Shed Media, Acxiom, back2back Productions, Electronic Arts, Honey Bee, WildBear Entertainment, Warner Brothers Interactive Entertainment, Reelz, Original Productions, PainlessTV, OWN, Envy Gaming, Paramount+/CBS, Smithsonian Channel, Capcom, T-Mobile. He can be reached at: http://grahamsheldon.net/contact.