Sennheiser introduces new MKE 1 lavalier mic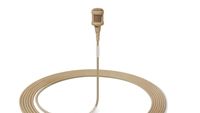 Sennheiser introduced its latest professional clip-on microphone, the MKE 1, at the 125th AES Convention in San Francisco. With a capsule that's not much bigger than the head of a match, the MKE 1 has an omnidirectional pattern and achieves a natural, full sound with a clear and present treble. Particular care was taken to ensure the microphone capsule was fully protected from moisture.
"Despite its tiny size — the microphone measures just 3.3mm across — the MKE 1 offers outstanding sound quality, plenty of lower midrange and excellent presence with good speech intelligibility," said Scott Houston, Sennheiser associate product manager of professional products. "The microphone picks up predominantly direct sound with relatively little ambient noise, which is a real advantage for many applications from broadcasting to theater and musicals."
For shows where moisture and perspiration is a problem, Sennheiser developed optimal protective measures for the MKE 1. The clip-on microphone can be provided with a multipurpose cap that simply diverts any humidity past the microphone and doubles as a windshield. From within the mic, a thin, acoustically open stainless steel membrane protects the capsule.
The anti-kink sleeve has also been improved to increase the life of the Kevlar reinforced cable. With a diameter of just 1mm, the cable is highly resistant to handling noise, while a special plastic coating ensures that it tangles less readily.
The MKE 1 comes complete with a multipurpose cap that protects the microphone from perspiration and also serves as a windshield (treble boost of 1.5dB). Also included is a small frequency-response cap, which produces a treble boost of 2.5dB for applications where the mic is hidden within a costume. Three makeup protection caps and several thin plastic tubes for shielding the cable when attaching it with clips or adhesive tape are also included. The MKE 1 comes in beige and black with a three-pin plug for Sennheiser body-pack transmitters SK 5212, SK 5012, SK 250, SK 50 and SK 3063, or it can be ordered with an unterminated cable for other wireless transmitters.
For more information, visit www.sennheiserusa.com.
The latest product and technology information
Future US's leading brands bring the most important, up-to-date information right to your inbox