GlobeStream Taps Panasonic Connect for REMI Live Sports Productions
We wanted a solution that offered deep support for IP video technologies and one that featured a robust ecosystem with strong support for integration and automation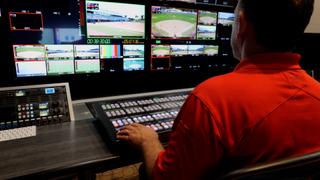 (Image credit: Panasonic Connect)
DALLAS—As a full-service production company, our mission at GlobeStream Media is to deliver innovative and immersive live stream experiences, event AV, and video production services to audiences around the world. Achieving this goal — and meeting the needs of our customers — requires us to leverage the highest-level broadcast technology to ensure we deliver the most valuable and stimulating video content.
For the past several years, we have worked with USA Softball to livestream their 16u and 18u GOLD National Championships. This is their premiere youth tournament, featuring many players who will go on to play collegiate softball. USA Softball aims to deliver a high-quality broadcast of the games not just for families and friends who can't be present, but for college recruiters as well.
REMI Live Streaming
Each year, the tournament takes place at several venues across the host city. With games happening simultaneously, we have expanded our use of remote integrated production (REMI) to enhance our workflows and increase the production value of our live streaming service. Remote integrated production allows us to leverage our control room in Dallas, so we don't have to roll a production trailer or send fly packs on-site, helping us keep costs down.
In recent years, as we've looked to expand our REMI operations further, we prioritized two vital considerations when looking at equipment. We wanted a solution that offered deep support for IP video technologies and one that featured a robust ecosystem with strong support for integration and automation.
With only a few on-site operators, we also needed equipment that would easily integrate with our control room and require minimal setup and operation. That's why we turned to Panasonic's KAIROS live video production platform, paired with the company's corresponding camera solutions.
We had two different configurations for our remote production of the GOLD Nationals this past year. For the preliminary games, we used several AW-UE40 4K/30P Ultra Quiet PTZ cameras. Using the SRT Listener functionality of the PTZ cameras and the SRT Caller functionality of our KAIROS system, we leveraged a VPN connection between our control room and the venue to allow the cameras to stream directly to KAIROS as soon as they were turned on. This eliminated the need for on-site configuration.
Additionally, we were able to control the cameras remotely directly from KAIROS, allowing our technical director to frame up shots directly from the control room. This was a truly plug-and-play solution.
For the tournament finals, we supported USA Softball with a multicamera production that included three AW-UE40 PTZ cameras and three AG-CX350 4K Handheld Camcorders. Leveraging our VPN connection to the remote cameras, we were able to not only get setup quickly, but also enable remote camera control and tally, both of which are integrated into KAIROS' IP-based ecosystem.
Flexible Multiviewer
In the control room, KAIROS' mutiviewer functionality gave us tremendous flexibility to configure our production environment, much more so than other systems we've used. The fully customizable interface allowed us to re-size, reposition, and individually assign each pip, supporting a streamlined environment for our technical director, all without the need for external systems. The on-premise version of KAIROS and the cloud-based version also have the same multiviewers with the same functionality, simplifying the set-up process.
Ultimately, our livestream was a tremendous success. Not only did KAIROS give us the functionality and ease-of-use we needed for this complex broadcast, but the solution also allowed us to create more dynamic content that could make at-home fans feel as if they were present at the games in person. We're excited to continue to harness the power of KAIROS for future livestreams to come.
Get the TV Tech Newsletter
The professional video industry's #1 source for news, trends and product and tech information. Sign up below.
Brett Casadonte is co-founder and chief technical director of GlobeStream Media LLC, a turn-key provider of live streaming and event AV services. He also co-founded The Casadonte Group LLC where he oversees the development and delivery of media projects for business and government clients.