Audio-Technica introduces BP896 subminiature lavalier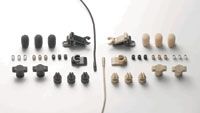 At NAB2009, Audio-Technica introduced its smallest lavalier mic, the BP896 subminiature, omnidirectional condenser microphone. Intended for capture of high-quality audio, the BP896 features a capsule just 2.5mm in diameter, making it ideal for applications requiring minimum visibility. The microphone operates on phantom power and includes a complete accessory kit. The BP896 is available in black and beige, with both wired and wireless models. The wireless versions include a multitude of terminations designed to work with Audio-Technica and other manufacturers' wireless systems.
The BP896 handles high SPLs and offers a wide frequency response. The omni element is enclosed in a durable, low-profile housing designed to minimize noise from handling, clothing and wind. The wired version plugs into the included AT8539 power module, which provides a low-frequency roll-off switch and XLR connector supplying a low-impedance, balanced output. The accessory kit includes a clothing clip base, viper clip base, three single mic holders, two double mic holders, two windscreens and six element covers (two each in black, white and beige) for blending in with users' attire. A protective carrying case is also included.
The BP896 will be available in June 2009.