WLS shows HD's wow factor to Chicago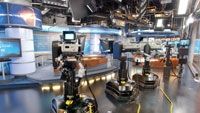 On Jan. 6, WLS-TV ABC 7 began broadcasting its entire local news and programming lineup in HD. The transition to HDTV presented the station with the opportunity to treat its audience to the wow factor that comes with such a high-quality viewing experience.
In the studio
The station acted as its own systems integrator for this project, which was beneficial because by the time the installation was complete, WLS was quite familiar with the systems. The station's engineering team worked for many months to integrate HD capability across the broadcast facility. The result of the overhaul is an all-HD infrastructure that includes HD control rooms, along with an HD studio and remote cameras, an HD graphics system, an HD weather system, and HD-capable live production trucks.
WLS upgraded 11 cameras in the studio to HD and added an HD production switcher. It also upgraded the plant router and a significant amount of infrastructure gear. In the process, the engineering team updated studio wiring for SMPTE fiber instead of triax.
Chicagoans and visitors alike can now walk past the facility for a front-row look at WLS' Emmy Award-winning State Street Studio set and watch studio operations in HD. Five of the new studio cameras are Sony HDC-1000s with Canon XJ25x6.8B HD lenses installed on Vinten robotic pedestals. The studio also includes a Sony HDC-1500 camera with a Canon HJ17ex7.6 portable lens, complemented by smaller Ikegami HDL-40 (720/60p) cameras used for weather and other out-of-studio shots.
Production
One unconventional element in the station's broadcasts is the use of an HDL-40 camera, installed more than a block away on a Macy's department store building. The camera sends outside images of the studio back to the station via Canon's DT-50/HD Canobeam Free Space Optics system.
The station's graphics and weather systems are also generated in HD. Instead of simply upconverting graphics, WLS recreated all of the station's opens, bumpers, franchise animations and studio mixes. Although this process was labor-intensive, it ultimately gave station viewers a true HD experience. WLS' graphics systems include multiple two-channel Pixel Power Clarity 5000 HD units, complemented with a Grass Valley PVS 2000 HD clip player.
The station also implemented a fully loaded Snell & Wilcox Kahuna SD/HD multiform production switcher, a four-M/E system with eight channels of DVE. The switcher handles conversion internally, reducing the need for external conversion gear and allowing station operators to integrate SD satellite feeds, camera feeds and other SD inputs into HD programming without concern for format compatibility. The station configured the 11RU electronics of the switcher to serve two identical control rooms — one used for small productions and the other for news. This resource-sharing capability allows the Kahuna mainframe to be shared between the news production and the production control rooms, each of which is equipped with its own console.
The facility upgraded to an HD/SD PESA Cheetah wideband 512 × 512 framed router, which was expanded to 384 × 384 to accommodate HD I/Os. The router is controlled by the existing Grass Valley Jupiter control system, which also controls the analog A/V levels and an NVISION 512 × 512 AES level.
WLS also standardized on the Harris Leitch X75HD multiple converter and frame synchronizer, which extends the facility's options in terms of incoming and outgoing content. HD processing is split between Evertz and Miranda gear, with the control rooms featuring an Evertz MVP multi-image display processor and Miranda and Evertz DAs, upconverters and other infrastructure gear. Miniature standalone converters from AJA are used for monitoring purposes. The mini converters attach immediately behind monitors and convert video from HD-SDI to DVI, for example, wherever needed. A few additional AJA distribution amps are used throughout the facility as well.
The station invested in a top-quality audio system prior to the HD upgrade, so it was able to continue using its Solid State Logic Aysis Air digital broadcast console. The all-AES system only required expansion of the number of audio inputs.
In the process of upgrading its news production, WLS also switched its newsroom automation to 16:9. The move proved just as much of a challenge as implementing HD but has been well worth the effort. Feeds from digital cameras in the field — shot at 16:9 and fed back via digital paths — look almost like HD content on-air.
The station also converts incoming feeds, such as those from CNN, NewsOne and other major networks, to 16:9, adding wings when necessary. News ingest, editing and playback are all performed in 16:9, making this a truly comprehensive shift to widescreen programming. The effect of this transition is that the continuity of the HD feel is carried throughout the show, even for material not acquired in or upconverted to HD.
Staff training
Converting the newsroom system to 16:9 was more than just a technical challenge because the change affected many employees, who had to learn to think differently about footage. They now edit all material in 16:9, including archived material, which is adapted as it is incorporated into the production workflow. To help staff members understand the visual difference in aspect ratios, the station set up a training facility in its studio.
The station's HD news program is created through Grass Valley newsroom automation run in 16:9 mode, as well as desktop journalist editing using Avid Media Browse. In the programming department, five Avid Media Composers have been converted to Adrenaline HD systems. And the station's Unity server has been replaced by a larger Avid ISIS system with 16TB of online storage to support post production of HD promos and programming.
Live HD shots
The station also invested in a new Weather Central 3D:LIVE HD system that gives weather a whole new look. It incorporates Landsat images, matched with aerial photography of the Chicago area, along with an upgraded Vizrt Curious Software map system that provides satellite imagery.
The Traffic.com graphics system for traffic reporting was also upgraded to HD. There are five traffic cameras, with three Panasonic AK-HC 1500G HD box cameras located at the Sears Tower and two at the John Hancock Center. A sixth camera located atop the Sears Tower captures time-lapsed SD video in a 16:9 aspect ratio. The Sears Tower and John Hancock Center have been linked to the station by fiber using Evertz single mode terminal gear. The station considers the timing of this upgrade less critical, as the use of the cameras comprises such a short period of airtime.
All of the station's microwave sites are capable of passing through HD. WLS launched Chopper 7 HD in April 2006 with one HD-capable site, and now all nine microwave sites are HD-capable. The station can do HD live shots with JVC GY-HD250U ProHD cameras from its ENG vans. A Miranda ASI Bridge converts the live 720/60p stream to ASI for transmission to the station, where it is decoded back to HD/SDI for production using TANDBERG TT1280 or TT1290 decoders. The station currently uses Harris Platinum CD VHF and Harris Diamond CD UHF digital transmitters.
WLS' HD launch continues its two-decade tradition of leading the Chicago market. And the cutting-edge technology gives the station a strong foothold for the future.
Kal Hassan is vice president and director of engineering for WLS-TV ABC 7.
Design team
WLS-TV
Emily Barr, president and general manager
Jim Begley, senior IT manager
CC Boggiano, news operations manager
Richard Bonsignore, controller
Phil Christopherson, technical
Lisa Clingan-Cruz, graphics director
Mike Davis, IT technical
John Decorah, technical
Jan Fedorenko, media manager
Jennifer Graves, VP and news director
Martin Hanks, technical manager
Kal Hassan, VP and director of engineering
Tom Hebel, VP of creative services and programming
Dave Hewitt, studio technical manager
Janet Hundley, assistant news director
Jan Janowski, technical
Jason Long, technical
Dennis McGuire, technical maintenance supervisor
Tim Osterman, technical construction supervisor
George Pearson, technical
Dave Spinelli, scheduling manager
Craig Strom, assistant director of engineering
Evan Thomas, IT and engineering
Joe Trimarco, director of operations
Technology at work
AJA HD/SDI to DVI converters
Avid
ISIS 16TB online storage
Media Composer Adrenaline HD
Canon
DT-50/HD Canobeam Free Space Optics system
HJ17ex 7.6B IRSE HD ENG lens
XJ25x6.8B IED/D-01-DSS HD studio lenses
Evertz
MVP multi-viewer processors
Single-mode optical terminal gear with HD I/Os
Grass Valley
Jupiter control system
PVS 2000 clip server
Harris Leitch X75 frame syncs
Ikegami HDL-40 720/60p box cameras
JVC GY-HD250 CHU Pro HD HDV camcorder
Miranda Technologies
Densité series HD DAs and downconverters
HDV-to-ASI Bridge
NVISION 512 × 512 AES routing switcher
Panasonic AK-HC1500 720p/60 HD box cameras
PESA Cheetah HD/SD router
Pixel Power Clarity 5000 HD graphics units
Snell & Wilcox Kahuna HD/SD production switcher
Solid State Logic Aysis Air digital audio consoles
Sony
HDC-1000 1080p/720p HD studio cameras
HDC-1500 portable 1080p/720p HD studio camera
TANDBERG TT1280 and TT1290 decoders
Traffic.com HD software
Vinten robotic pedestals
Vizrt Curious software
Weather Central 3D:LIVE HD upgrade
The latest product and technology information
Future US's leading brands bring the most important, up-to-date information right to your inbox
Thank you for signing up to TV Technology. You will receive a verification email shortly.
There was a problem. Please refresh the page and try again.