Where in the World is ATSC 3.0?
Other countries take their own approach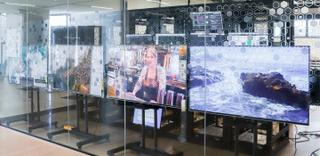 (Image credit: Humber College)
The interest in ATSC 3.0 in the United States is so strong, that one might assume that it is being reflected in other parts of the world.
However, the standard has only officially been adopted by Korea, Jamaica and the Republic of Trinidad-Tobago. But as other larger countries including Brazil, Canada and India illustrate, each nation has its own approach to next-generation broadcast TV. (Note: "NextGen TV" is the U.S. brand of ATSC 3.0.)
Brazil Designing Transmission System
Although Brazil has not selected ATSC 3.0 or any other predefined advanced terrestrial TV standard, a group of Brazilian broadcasters, manufacturers and academics called the Fórum do Sistema Brasileiro de TV Digital Terrestre ("SBTVD Forum") has launched the "TV 3.0" project. This made-in-Brazil, custom-designed, next-generation terrestrial digital TV system uses a hybrid broadcast/wireless broadband delivery approach, which the SBTVD Forum is promoting to the Brazilian federal government for adoption.
"The intention is to design a new state-of-the-art terrestrial TV system that improves upon the current Brazilian DTV system, via a non-backward-compatible transition," said Skip Pizzi, chair of ATSC's Brazil Implementation Team. "TV 3.0 is being designed to provide greater OTA robustness and spectrum efficiency, higher audio and video qualities, greater flexibility for broadcasters and more choice for Brazil's TV consumers, improved accessibility and emergency information features, along with expansion of the current Brazilian TV system's interactive capabilities."
This being said, the SBTVD Forum has already recommended using some core elements of ATSC 3.0 in its made-in-Brazil platform. They include ATSC 3.0's ROUTE/DASH Transport system, its MPEG-H Audio system, IMSC1 Captions system, and the ATSC 3.0 Advanced Emergency Alerting system, along with some elements of ATSC 3.0's Video-HEVC system.
"The Forum continues to evaluate proposals for TV 3.0's OTA Physical Layer and its Application Coding system, for which ATSC 3.0's proposals remain in the running," Pizzi added. "ATSC is assisting Brazil in the ongoing development of its TV 3.0 system. Like all proponents to the TV 3.0 process, ATSC has agreed that if any of its proposed technologies were selected by the SBTVD Forum, we would assist in the drafting of the TV 3.0 standard specifications, operational guidelines, and conformance documentation, which we are currently engaged with on the Audio, Video and Captions specifications."
Pizzi said that an end-to-end demonstration of the complete TV 3.0 system is expected by August 2024 and expected to launch in 2025, "although spectrum allocations for the new service remain TBD," he added.
The popularity of over-the-air Brazilian TV makes this a worthwhile investment for broadcasters. "It's essentially the opposite of the U.S. situation, in that Brazil's OTA TV usage accounts for about 85% of viewing, while pay TV's penetration is only around 15%," Pizzi explained. "As well, the overall market size is quite large, at around 70 million TV households and growing, with Brazil's per-capita TV viewing second only to the U.S. in the Western Hemisphere, and fifth-ranked among all countries in the world."
Canada: Integrating 3.0 and 5G
To support research into ATSC 3.0 multi-sectoral applications in Canada, the Natural Sciences and Engineering Research Council (NSERC) and Canada Foundation for Innovation (CFI) has awarded a C$4.5 million grant (US$3.34 million) to Humber College to create Canada's first Broadcast-Broadband Convergence B²C Lab in Toronto. It is headed up by Humber B²C Lab Director Orest Sushko.
"We are a 100% front-facing industry research lab," said Sushko. "We are able to provide insights through ATSC 3.0 innovations in our lab that can inform and support new provisions in broadcast regulatory policy."
To pursue its ATSC 3.0 research, the Humber B²C Lab has been equipped with an ATSC 3.0 IP-based broadcast ecosystem and a 5G core network, allowing its personnel to explore convergence of these two data delivery systems. The lab also has an RF anechoic chamber to support the development and testing of a wide range of wireless devices and prototypes.
As well, having been granted the first and only ATSC 3.0 experimental broadcasting license in Canada, the Humber B²C Lab has deployed a custom multiple transmitter/antenna ATSC. 3.0 over-the-air test bed covering the Toronto area.
As for the role of Canadian broadcasters in this process? "They can help advance research using the television spectrum that could be supported by government regulators," Sushko replied. "This could bring forth new conversations about developing more efficient use of that spectrum through ATSC 3.0."
"Our broadcasters are very supportive of the research work that we're undertaking, as they continue to learn more about the standard," he added. "They're watching the U.S. rollout and still determining what sort of resources they're prepared to put into ATSC 3.0."
South Korea: a True ATSC 3.0 Pioneer
The Republic of Korea (aka South Korea) was the first to launch ATSC 3.0 in 2017 to deliver better video and audio quality to OTA viewers in its largest urban areas, using the 2018 Winter Games in PyeongChang to promote its 4K capabilities. Today, this country is extending ATSC 3.0 coverage to medium and small cities, according to Dr. Sung-Ik Park, the Republic of Korea's Project Leader of ATSC 3.0 Physical Layer, for the Electronics and Telecommunications Research Institute (ETRI), a government-funded research organization.
"Korea is the most advanced country in terms of SFN [single frequency network] design and optimization," he said. "For example, KBS [Korea Broadcasting System], the largest broadcaster in Korea, constructed a national SFN with more than 20 transmitters and is installing more transmitters for better coverage and field strength. Furthermore, Korea is testing MIMO and Channel Bonding technologies for future applications such as 8K-UHD delivery and multiplex businesses."
To date, South Korea's interest in ATSC 3.0 has been for broadcasting 4K-UHD video and enhanced audio. However, "ATSC 3.0 is a toolbox that can do more than just TV," said Dr. Park. "Korea primarily focuses on UHD broadcasting but has prepared several new services such as high-quality mobile for D2M (direct-to-mobile) and D2V (direct-to-vehicle), enhanced GPS for centimeter-level accuracy, high-quality audio-only service, targeted advertisement, emergency alert, and others."
(Read also: ATSC Seeks to Converge Global DTT Standards)
At present, the popularity of South Korean OTA TV is being undercut by Netflix and other streaming platforms. "However, OTA will be stronger than now due to the several new ATSC 3.0 services mentioned above," Dr. Park said. "In particular, datacasting services like emergency alerts and enhanced GPS will be killer applications for terrestrial broadcasters."
Meanwhile, government and industry support for ATSC 3.0 is strong in this country. "Korea commercially started UHD broadcasting in 2017 thanks to a great effort from broadcasters, industries, academics, and the government," explained Dr. Park. "Due to this effort, major TV manufacturers support the ATSC 3.0 function in their models. Korean broadcasters plan to install ATSC 3.0 in all major cities by 2023 and cover the whole territories of South Korea, including medium/small cities, by 2027."
India Focuses on d2m
The world's most populous country has also been considering ATSC 3.0 as its next generation terrestrial television standard. In 2021, the ATSC signed an agreement with the Telecommunications Standards Development Society, India (TSDSI)—the government agency responsible for developing telecommunications standards in the country—to transpose ATSC 3.0 as a possible next generation broadcast standard. That work is now complete.
Mark Aitken, senior vice president of advanced technology with Sinclair Broadcast Group—which has been working with broadcasters in that country to build an SFN for ATSC 3.0 trials in Bangalore—says that rather than adopt the standard as a whole for TV, the country is considering certain aspects of ATSC 3.0—in particular its mobility elements—in a "direct to mobile" (D2M) strategy.
"The ministry in broadcasting [MIB] has explicitly asked for proposals to build out direct to mobile infrastructure," he said. "So there's activity underway with both private and government parties working together to figure out building out marketplaces with direct to mobile [services]."
In a country where only 2% of the population watches television over-the-air, using broadcast to transmit to mobile devices could go a long way towards closing the digital gap, Aitken said. He added that more than 800 million people in India don't have access to high-speed broadband, and yet the country is the largest per capita consumer of digital video services on mobile devices in the world, "by a fairly large margin."
Aitken says the Indian Telecommunication Engineering Centre (TEC), the government agency responsible for approving telecommunications standards in India, is expected to make a decision on whether to make 3.0 the D2M standard by the end of the year.
If TEC gives its approval, it's very likely that the government could mandate support for 3.0 chipsets in mobile devices sold in India, giving ATSC 3.0 an enormous boost (and argument for) adding support for 3.0-enabled mobile devices in other parts of the world.
Get the TV Tech Newsletter
The professional video industry's #1 source for news, trends and product and tech information. Sign up below.
James Careless is an award-winning journalist who has written for TV Technology since the 1990s. He has covered HDTV from the days of the six competing HDTV formats that led to the 1993 Grand Alliance, and onwards through ATSC 3.0 and OTT. He also writes for Radio World, along with other publications in aerospace, defense, public safety, streaming media, plus the amusement park industry for something different.