Second Baptist Church improves image with Ikegami HD cameras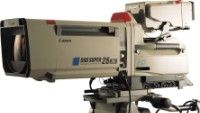 The Second Baptist Church, located in Houston, TX, is now using 10 Ikegami HDK-79EXII portable and three HDK-790EXII studio HD cameras to capture and broadcast its weekend services. The church's five separate Houston-area campuses receive signals of taped or live HD telecasts originating from either the church's main 6500-seat Woodway campus or its 4000-seat West campus. HD images are projected at all five of Second Baptist's locations in wide-format IMAG (image magnification).
The digital HDK-79EXII HD camera uses the same sensor block with identical video path as the HDK-790EXII full facility studio HD camera, providing a consistent look. Both cameras capture HD images natively with 2/3in 2.2-megapixel FIT HD CCD sensors, 14-bit A/D conversion and up to 38-bit internal digital-processing circuits.
The HD cameras also feature advanced detail correction for richer reproduction of details in skin tone and dark backgrounds. A Super Knee system allows for making corrections without changing highlighted parts of the picture and producing natural color reproduction under high luminance conditions.
For more information, visit www.ikegami.com.