Richmond's WTVR-TV captures HD in the studio with JVC cameras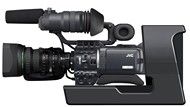 WTVR-TV, the CBS affiliate in Richmond, VA, is now broadcasting its local newscast and the Virginia Lottery in HD with GY-HD250 cameras from JVC.
Equipped with JVC's KA-HD250 studio adapters, the GY-HD250s are used in a studio configuration to produce the station's live morning, noon, evening and nightly news programs as well as its live daily local morning show "Virginia this Morning." The station also programs the Ashland VA-based CW affiliate WUPV-TV's 10 p.m. newscast, using the same feed.
The Virginia Lottery studio produces two shows daily and is equipped with three of its own GY-HD250s. In addition, the station also purchased JVC's DT-V20L1DU LCD monitors.
For more information, visit www.jvc.com/pro.