Panasonic to show real-time graphics processing and extended time DVCPRO HD cassettes at NAB2003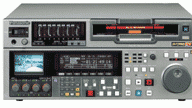 At the upcoming NAB2003 convention, Panasonic will unveil a multi-format, real-time graphics processor designed for sports, live entertainment and virtual sets. The graphic system inside the AV-CPG500 was developed in tandem with vizrt, a virtual set and real-time graphics display company.
Panasonic will also introduce two new LCD monitors (including a new a new 8.4-inch HD resolution field portable model, and a 14-inch SD model for studio applications) and an extended-record (EX) format cassette for its DVCPRO HD format cameras and VTRs at the NAB show in Las Vegas, Nev.
The current version of the new AV-CPG500 graphics processor offers 1080i HD and 480i SD, while future implementations will include 720p/60 and 1080/24p support. It's a PC-based system with a 2 RU size external graphics unit that incorporates anti-aliasing and video texture mapping (video wall) to generate high-quality images with no performance degradation.
A built-in chroma keyer is standard in the AV-CGP500, enabling designers to produce virtual set programs with no additional equipment. However, an external chroma keyer can be connected as an option. The unit includes two SDI inputs (each with key) and two SDI outputs (one with key, the second for checking the key signal).
A series of vizrt graphics software can run on the AV-CGP500 system, which is planned for a fall delivery.
Also to be unveiled at NAB2003, Panasonic's new AJ-HD1700 is a DVCPRO HD extended-record (EX) format VTR that delivers extended recording times, slow motion and low-tape costs for HD program production.

The AJ-HD1700 VTR records for up to 126 minutes in 60 fps 1080 line interlace, or 60-fps 720-line progressive scan HD video on a single XL size DVCPRO HD cassette.

The AJ-HD1700 VTR records for up to 126 minutes in 60 fps 1080 line interlace, or 60-fps 720-line progressive scan HD video on a single XL size DVCPRO HD cassette. The 4U-size VTR also offers eight 16-bit, 48-kHz PCM audio channels that can accommodate 5.1 surround sound plus a stereo sound mix, SAP or multi-language programming.
Due to newly developed 9-micron track width recording technology, tape costs on the AJ-HD1700 are comparable to the existing family of DVCPRO50 format VTRs. Existing DVCPRO50 or DVCPRO HD blank tape stocks may also be used in the AJ-HD1700, allowing integration into broadcast facilities. The new VTR offers full playback compatibility with existing 1/4" DV based compression formats including DVCPRO50, DVCPRO P, DVCPRO, DVCAM, DV and mini-DV.
LCD Monitors
The new 8.4-inch BT-LH900 field monitor runs on 12-volt DC-power and is designed for users of Panasonic's AJ-HDC27 VariCam HD camera, said Stuart English, Vice President, Marketing, Panasonic Broadcast & Television Systems Company.
Compact and lightweight, it's targeted at remote HD and SD production. Displaying color images, the BT-LH900 is equipped with intuitive, easy-to-use manual controls, until now only available on CRT monitors.
With dimensions of 8.6 (W) x 6.7 (H) x 2.3" (D), it weighs 5.5 pounds and offers 1024 x 768 XGA native resolution, 300:1 contrast ratio, and can display 1080/24psF, 1080i, 720p, 576i, 480p and 480i.
The BT-LH900 provides two SDI inputs (HD and SD switchable), Y/Pb/Pr component analog input and an RGB input. In HD mode, the LCD panel enables 16:9 display of widescreen images, plus built-in waveform monitoring and film to video gamma matrix conversion. It also offers RS-232C and external GPI remote control and low power consumption of 20 watts.
The 14-inch BT-LS1400 studio LCD panel delivers 640 x 480 VGA resolution, an outstanding brightness of 450cd/m2, a 400:1 contrast ratio and 160 degrees viewing angles horizontally and vertically. The AC-powered unit is equipped with composite, S-video, Y/Pb/Pr and audio inputs. It's 13.8 W x 12.1 H x 3.5 D in size and weighs 8.8 pounds.
For more information visit www.panasonic.com/broadcast and www.vizrt.com.
Get the TV Tech Newsletter
The professional video industry's #1 source for news, trends and product and tech information. Sign up below.