NFL Will Post Black-out Games Online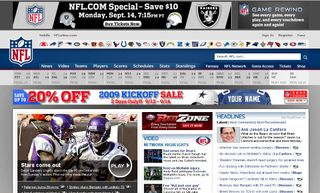 NEW YORK: The National Football League is modifying its black-out policy this year. Unless they're sold out 72 hours before kick-off, games carried on TV are typically blacked out in those markets where the they're played.

This season, the NFL will offer coverage of those games online after-the-fact. The NFL said it would post the games on NFL.com for 72 hours after midnight on the eve of game play.

The black-out rule was created to fill stadiums, but 10-12 teams have not sold out this year, according to analysts and Sports Illustrated.

More from TVB on NFL TV coverage
September 9, 2009: "NFL Feels the Pinch"
The TV gold mine that is football may not be as productive this coming season as in years past. Marci Ryvicker of Wells Fargo notes that 10 teams are not sold out yet... ...potentially triggering television blackouts in their local markets--clearly a negative for local television affiliates."

August 26, 2009: "More 3D Football on TV"
ESPN is now on deck to transmit a 3D version of next month's football game between the University of Southern California and Ohio State. The 3D telecast will employ dedicated trucks, crew and commentators, separate from the regular 2D program.

May 18, 2009: "NFL Nears Deal with Fox and CBS"
The National Football League is close to closing a deal with Fox and CBS on future carriage of Sunday afternoon games. The deal would give the networks a two-year extension with a 3 to 5 percent rights revenue bump on a contract up next year.