NBC affiliate launches Louisville's first HD newscast with Kahuna multiformat switcher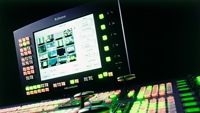 WAVE 3, the NBC affiliate in Louisville, KY, has become the first television station in its market to launch an HD newscast. The station used a Snell & Wilcox Kahuna HD production switcher. The HD rollout was accomplished in 30 days.
The station is owned by Raycom Media, which has standardized on Snell & Wilcox production switchers for its group-wide transition to HDTV operations. The Kahuna switcher allowed WAVE 3 to go live in HD without having to convert SD content from its archive.
The Snell & Wilcox Kahuna enables simultaneous SD and HD operations in the same mainframe and on the same control panel. This simplifies the HDTV transition for broadcasters by eliminating the need for external HDTV up/down/crossconverters in the live production environment, as well as the cost and the signal path delay associated with these products.
For more information, visit www.snellwilcox.com.