Maine Public Broadcasting's television operations center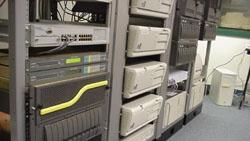 Maine Public Broadcasting serves the entire state of Maine with seven FM radio stations, five analog television stations, one digital television station, and four studios, all of which are interconnected via 50 plus microwave systems. The studio facilities are configured with Bangor housing the operational master control centers for television and radio.
The state of Maine has a population of 1.2 million people and covers an area larger than all of the rest of New England combined. MPBC serves 99 percent of the state's population.
The major goal of the project was to implement DTV in the most cost-efficient and manpower-effective manner possible. The specific goal of the project was to design a master control facility that would handle four standard-definition programs, pass high-definition programming, insert PSIP and opportunistic data, and run under automation. Other goals were to insert Maine PBS into the bitstream in place of one of the streams in the PBS multicast, switch between HD and SD streams, allow branding of all the services, and work in the compressed domain, all without requiring additional manpower.
MPBC needed a way to integrate their existing analog channel into the ATSC bitstream for their DTV service. At the same time they wanted to pass three of the four DTV channels provided by PBS because they did not have the capacity in their microwave system to pass both the analog and digital signals. They had to get their existing service multiplexed into the digital stream in order to demux it out at their transmitter sites, feed it into an ATSC decoder, extract the video and encode it as an NTSC signal. They intend to handle the HD programming by decoding the HD to an SD signal and then encoding it as NTSC.
MPBC selected the AgileVision 1000 as the cornerstone of their master control facilities. The fact that it allows manipulation of the data streams, forms virtual switchers that can be configured on the fly and can brand the services in the compressed domain mode, made it the ideal solution for Maine Public Broadcasting.
The design and use of AgileVision allows MPBC to pass and manipulate multiple program streams provided by PBS. And, since the AgileVision 1000 also serves as a software solution, MPBC has the upgrade path to provide additional services in the future.
Get the TV Tech Newsletter
The professional video industry's #1 source for news, trends and product and tech information. Sign up below.