KMBC Taps TVU to Cover Kansas City's Super Bowl Celebrations
Kansas City ABC affiliate used a variety of TVU products for live coverage from Kansas City and Phoenix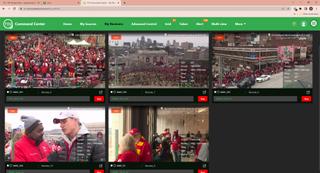 (Image credit: TVU Networks)
MOUNTAIN VIEW, Calif.—Hearst Television ABC affiliate KMBC in Kansas City, Mo. deployed gear from TVU networks to provide local and on-site coverage of Super Bowl LVII last week. Coverage included local watch parties, at-game interviews, and fan celebrations during the championship which saw the Kansas City Chiefs defeat the Philadelphia Eagles in the last minutes of the game.
Having prior experience of dealing with bandwidth limitations at crowded events like watch parties and fan celebrations, KMBC—for the 2023 SUper Bowl celebrations—deployed five TVU One 5G video transmitters; TVU Partyline cloud collaboration solution; TVU MLink uplink transmitter, and TVU Grid for IP-based video switching, routing and distribution to capture and deliver video from Kansas City and Phoenix - the championship host city.
"The beauty of the TVU One is that they've gotten to the point with IS+ that they're so reliable we can anticipate bandwidth challenges on-site and correct them before they happen," said Neeley Schmitz, Assistant News Director, KMBC-TV. "There were thousands of people at a watch party in downtown Kansas City on Sunday. We had some bandwidth challenges there. We simply adjusted the bit rate down and increased the latency by one second. The shot was clean without any issues. That ability to immediately adapt our equipment to the environment was crucial."
TVU One delivers high-quality live video over a 5G cellular bonded infrastructure, according to the company Using its proprietary IS+ technology, all TVU uplink solutions use any combination of cellular, satellite, microwave, WiFi and Ethernet IP connections to deliver live HD video from practically any location. IS+ allows any IP connection at any time without stopping the transmission.
For the victory parade on Feb. 15h, KMBC set up four TVU One's at various locations along the route using network connectivity, and one TVU One fed pool video to TVU Grid for sharing with other Hearst stations and other national networks. KMBC also shared live coverage from Phoenix, post-game interviews, and local live fan celebrations throughout the city on Grid.
A TVU MLink from the station's SUV transmitted live video from the celebratory fireworks display from Kansas City's Union Station after the Chiefs' victory.
Schmitz said they appreciated being able to use TVU Partyline as a real-time return video feed for the remote crews in Phoenix to communicate with the control room. "One of the biggest challenges we've faced is communication between our local staff and our reporters and photographers out of town—for them to visually interact with the images they're sending. During the championship game, we sent our photographers in Phoenix a Partyline link and routed our main feed from the control room to their Partyline screen so they could see the images they're sending as we're putting them out from Kansas City."
He added that KMBC uses TVU Partyline for virtual, on-air interviews with one person and multiple interviewees. "It's clean because we can distribute it seamlessly through our TVU infrastructure in the studio, and it always works. It's much more reliable for us than the mainstream video call software."
Aside from its reliable transmission, the mobility and accessibility provided by the TVU ecosystem were two of the main attributes Schmitz cited during the remote live production: "Having to run a hardwire cable from a satellite or mobile truck from the watch party in Kansas City's Power & Light district, with that crowd, would have made the shots we got impossible. TVU gives us that versatility. We had a photographer traveling from one sporting goods store to another, capturing people grabbing championship t-shirts and sweatshirts. We were able to quickly edit the video and get it on air. The efficiency and accessibility of TVU has really elevated what we're able to do."
"KMBC's deployment of its full ecosystem of TVU solutions is at the heart of everything we do," said Paul Shen, CEO, TVU Networks. "They're using our technology to provide the most engaging video coverage possible during one of the year's biggest live events in the city. The reliability of wireless TVU connectivity meant they could broadcast from several locations in Kansas City and Phoenix simultaneously. We're thrilled we could help them reach their audience in a way that makes every viewer feel part of the action."
The latest product and technology information
Future US's leading brands bring the most important, up-to-date information right to your inbox