For the First Time in Olympic Broadcasting, As Many Signals Will Be Sent via the Cloud as Standard Delivery
OBS reveals details around its production workflows, use of 5G and AI, and how Beijing 2022 is the first Winter Games in UHD HDR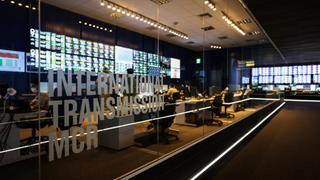 (Image credit: OBS)
Beijing 2022 will see more than 20 broadcast organizations receive feeds in real-time at their centralized production house via the cloud, in either UHD or HD.
Olympic Broadcasting Services has revealed that during the Winter Olympics the distribution of live signals over the cloud will be of equal volume as those via standard delivery models.
It is also the first time that the Multi-channel Distribution Service (MDS) will not only be distributed via satellite, but will also be available via the cloud, said OBS. The company has also moved part of its broadcast workflows to the cloud, consolidating many of the services offered to the rights holding broadcasters (RHBs).
In its pre-Games media guide, OBS also revealed international transmission capacity booked by the RHBs will reach 1.7 TBPs, a huge increase compared to 2018's Games in PyeongChang which used 500 GBPS.
(See also: The TV Technology Behind the Beijing Winter Olympics)
Production workflows
As part of its plans for Beijing, OBS has also worked on moving from a traditional, hardware-based production workflow to a virtualized, software model. At the Curling venue, the production crew will work from a production gallery in the compound, using Commercial Off-TheShelf (COTS) solutions that offer a similar user experience as traditional broadcast appliances. An on-premise data centre will replicate the cloud-based architecture platform.
"The first stage of this innovative project will give priority to functionality and interoperability, as well as ingesting and processing of the 1080p50 SDR video feeds coming from 18 cameras used for the coverage of one of the sheets at curling, alongside the audio feeds," said John Pearce, director of venue technical operations at OBS.
"Further, four additional native IP cameras, dedicated to the virtualized OB van project, will be connected to the network stack, eliminating the need for camera control units."
According to Pearce, this approach allows the broadcast production environment to be scaled to cater for changes in demand and workload, with production workflows that can be spun up and down as required in a matter of seconds.
"In the future, one could imagine having more flexible production crews, not necessarily based in the venue compounds, but perhaps operating from their own country premises, eliminating the need for dedicated full production crews on-site and avoiding the long-term rental of worldwide broadcast equipment for the live production of the Games," Pearce added.
5G and AI
OBS revealed it plans to deliver signals from more than 30 live and near-live cameras via 5G, including those fitted on snowmobiles at cross-country skiing and also those used in the start and finish areas at alpine skiing.
5G-connected cameras will also be used as part of the virtualized OB van project to capture the action from curling.
AI technology will be deployed to create clips from figure skating and ice hockey, which will be shared with OBS producers to edit highlights packages and music pieces.

First Winter Games in UHD HDR
During Beijing 2022, all the sports sessions, the Opening and Closing Ceremonies and the Medals Plaza Victory Ceremonies will be natively produced in UHD HDR, with immersive audio.
(See also: NBC's Broadcast of the Beijing Olympics in UHD/HDR Will Mark a First for the Winter Games)
Overall, OBS said it intends to utilize a total of 15 Outside Broadcast vans, together with nine field data centre production units, a fly-away system and a virtualized OB van − which have all been specifically configured and fitted-out to meet OBS's new production and distribution requirements.
All RHBs will receive the output in HD 1080i SDR as per Olympic standards. "OBS has created a single HDR to SDR production workflow model that will allow the trucks to generate an HD 1080i output via high-quality conversion from the primary UHD HDR signal," added Isidoro Moreno, head of engineering.
"Almost all of the content will be produced natively in UHD HDR; however, OBS will also rely on several specialty cameras that at this time can only operate in HD 1080p SDR," he added. "The video source of these cameras must be up-converted to UHD HDR in order to be integrated into the main production so that there are no perceived colour or brightness differences."
A full IP infrastructure has been built to support the transport of the UHD HDR signals for the contribution network. The OBS Venue Technical Operations (VTO) team has developed a set of look-up tables (LUT) in-house to maximize the quality between all cross-conversions (from/to UHD-HD and HDR-SDR).
This year also marks the first time a Winter Olympics has been captured in immersive 5.1.4. OBS said it intends to expand upon 5.1 surround sound by adding an overhead sound layer, and thus a third audio dimension with the addition of four hanging ceiling microphones with heights that will be adjustable. Two new microphones have been specifically designed for this immersive sound production. In total, OBS said it will be using more than 1,600 microphones (40 different models).
Two immersive audio quality control rooms have been installed inside the IBC to support the venue production and guarantee quality consistency across all sports.
This article originally appeared on TV Tech sister brand TVB Europe.
The latest product and technology information
Future US's leading brands bring the most important, up-to-date information right to your inbox
Jenny has worked in the media throughout her career, joining TVBEurope as editor in 2017. She has also been an entertainment reporter, interviewing everyone from Kylie Minogue to Tom Hanks; as well as spending a number of years working in radio. She continues to appear on radio every week and occasionally pops up on TV.