NAB Replay - Streaming media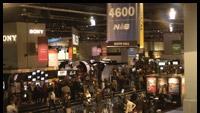 In many ways the saga of harnessing the power of the Internet for today's broadcasters could aptly be described as, "The continuing search for a business model that works." What was hoped to be a river of rapid adoption has currently become only a trickle. Both radio and television broadcasters are trying to utilize the Web to increase revenues and audience share.

The success or failure of streaming technologies may not be revealed until next year's NAB.

Due to advances in streaming video and high-fidelity audio, and the increasing broadband infrastructure and its lowering costs, content is not only looking and sounding better, but also becoming a lot more interactive. NAB 2003 saw over 500 streaming or Internet-related companies hoping to help broadcasters with the challenges of working with the Web. A recent Arbitron Audience Survey study indicated approximately 12 million Americans would be willing to pay a small fee to listen to specialized content. Research shows rich interactive media is a key area of future growth. Come what may, the battle cry seems to be, "Diversify or Die!"
Bringing broadcasters to the Internet was an important thrust for this year's show. Multimedia World is held in conjunction with NAB and covers everything from broadband digital content delivery and wireless media to DVD post production and encoding. Although the newer section of the show dedicated to Internet broadcasting and multimedia was brimming with brand-new companies, there's still a lot of aftermath from the implosion of the heavily funded dot-coms. It was clear that the recent tough times are making every broadcaster count their dollars and justify new purchases, including those dealing with the Internet. But today's consumer is much more educated, and there were lots of learning opportunities at NAB 2003.
RealNetworks CEO Rob Glaser gave an interesting keynote address during the Webcasting Super Session. It examined how some broadcasters are using subscription fees and sponsorships or corporate underwriting for new revenue opportunities on the Internet. Additionally RealNetworks hosted free seminars exploring a unique new, low-risk program designed to allow broadcasters to deploy an Internet subscription strategy with little or no start-up cost and effort. The seminar discussed how broadcasters can participate and benefit from online subscription models today.
On the technology side, MPEG-4 is still growing in adoption. Many new solutions — both hardware and software — are utilizing this new worldwide standard, which delivers many features important for streaming, including dramatically higher audio quality coupled with better video and significantly faster compression speeds. Backbone Networks of Worcester, MA, is one example. It announced a new centralcasting Internet streaming application at NAB 2003. The new software application utilizes the digital media standard and the Internet to deliver high quality audio directly to affiliate stations, resulting in higher quality transmission at lower operating costs. The application also enables stations to link studios with their transmitter sites via the Internet. Broadcasters stream their standard and specialty programming to select affiliates, distribution points and transmitter sites. Before long a station may not need cable, microwave or RF transmission technology.
A gamble?
With television looking for new multimedia markets, more Web sites embedding audio ear candy, and the growth of high-speed streaming in the American home, the future indeed looks bright for online media, despite current challenges. Broadcasters are looking to the Web to diversify their businesses, increase profit to pay for the digital transition and to reach a larger audience. Industry watcher Forrester Research estimates that by 2005 about 40 percent of U.S. consumers (more than 118 million people), will listen to online audio content at least once or twice a week, and video shows even higher numbers. This does not include the vast markets overseas, nor the coming wireless/cell phone revolution for both audio and video. When one looks at the numbers, it's hard to see that streaming media is any real gamble at all.
Satellite and online content delivery mediums have most traditional over-the-air broadcasters panicking. This is especially true for those broadcasters in smaller markets, who are having a hard enough time switching over to digital television, let alone retooling for an entirely new medium.
One thing appears certain for today's broadcaster — simulcasting an over-the-air signal online via audio and video streaming will still offer the biggest ROI for the foreseeable future. Webcasting, narrowcasting and secondary data services are receiving increased emphasis both from exhibitors and attendees. New solutions offering higher quality at more effective price points were in abundance at NAB 2003, but sales remain to be seen as broadcasters strive to squeeze every bit of profit out of whatever they can. Will Bluetooth wireless technology, WANs, Internet Webcasting and other audio delivery technologies continue to attract a torrent of new adopters, or will online media delivery believers continue to just swim upstream? We'll need to tune into NAB 2004 next April to find out!
Tom Patrick McAuliffe is a journalist and consultant living in San Francisco.
The latest product and technology information
Future US's leading brands bring the most important, up-to-date information right to your inbox