NAB Replay - Production systems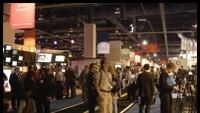 NAB 2003 presented a new crop of production system technology choices that met a wide array of needs in the broadcast production environment. From affordable playback sources to automated closed captioning, a variety of niche products caught the attention of our team's research group.

This year's crop of production solutions included products for playback, closed captioning, audio processing and switching.

Of particular interest were the latest product line offerings from Junger Audio. A line of discrete AES and even embedded SDI audio processors including channel shuffling, limiting, compression, equalization, mic mixing and surround processing are now available in modular and 1RU form factors. Junger's new B44 audio converter/router provides channel shuffling, summing and audio insertion access for SAP and DVS audio services into an embedded SDI stream from either discrete analog or AES sources. All settings are remotely accessible via serial or GPIO control, making this a great tool for the ingest, production or release path areas of a facility.
A second product of interest is the Evertz MVP. This multiviewer platform supports as many as 64 inputs; a variety of input formats (discrete SDI/AES, embedded SDI and multiple-VGA to start); as many as two simultaneous, but independently configurable, UXGA outputs; SNMP signal monitoring (audio, video, VBI, Web streams); and a movable/scalable display image. The MVP is competitively priced to Miranda's KaleidoK2 and Barco's Hydra processors, and it affords comparable features with multiple outputs available to support multiple displays or rooms.
In the control area we found DNF Controls' FlexControl networked control system. This modular platform includes control panel, serial control I/O and GPIO building blocks that utilize TCP/IP as their interconnect. Multiple control positions can access the same control hub, and each control panel can access multiple control I/Os. Distributed systems can utilize Web links to access remotely linked control bridges, and a wide array of device protocol drivers are currently available. TD control of a complement of IP-connected source devices is now possible in a streamlined package.
Another control product of interest is Television Systems' UMD-SC-21 tally interface. This interface device is a key data bridge between router control systems, multiviewer display processors and production switcher tally sources in the modern control room monitor wall. Dynamic source identification display in a multiviewer monitor wall requires that not only switcher tally status, but also destination assignment mnemonic information, be assignable to movable image boxes in the multiviewer system. The TSL device creates the translation tables that match this data up and enable the true power of under-monitor display in the virtual environment. On a recent job site, we found the graphical user interface (GUI) to be intuitive and the support sufficient to glue two systems together rather quickly.
In the studio and remote production environments, another new product of interest, and a Pick Hit winner, is the Clear-Com CellCom wireless beltpack. The base station can support up to 10 beltpacks and it provides selective combination of as many as four matrix crosspoints with as many as 10 total beltpacks, all controlled from the beltpack GUI. The ability to group Party Line (PL) participants from the beltpack, and the extended range (˜1,000m) that is offered, makes this a versatile platform. And because it operates above the UHF band, it requires no discrete licensing. PL groupings can be selectively addressed from a matrix-connected keypanel via one to four crosspoints, providing on-the-fly PL groups.
On the captioning front, automated captioning via voice recognition software was introduced by International Computers in their enhanced ccE Voice product. As cable channel providers and other niche programmers are required to increase their percentage of captioned programming with expanded viewership, ccE Voice offers complete compliance to ADA/FCC captioning regulations, addresses the Telecommunications Act and supports the latest SAPI/EIA608 standards. The voice recognition capabilities are notable, and the subsystem hookup is simple (audio in, caption data out). Global Translation introduced a Pick Hit-award-winning captioning product, the Translate TV translator, which decodes closed captions to translate the text stream. The system then re-encodes the translation in unused caption fields such as CC2, CC3 and CC4.
Another new product that caught our eye was the Pioneer PRV-LX1 DVD video recorder, which was awarded a Pick Hit. This unit features an onboard hard drive, one or two CDR/W-DVD drives, an Ethernet NIC and a Firewire port that supports file transfers. The key feature is a baseband analog or SDI I/O that allows direct recording of audio/video programs through an "auto-authoring" feature. This feature allows stream record without manual authoring, but allows some flexibility for later menu import and DVD chapter specification. Adding one of these units to an interformat dub area may prove to be a valuable decision.
On the camera front, the new JVC JY-HD10U HD handi-cam was awarded a Pick Hit. The unit supports 720p/480p record capability and 1080i/720p/480i playback, all on standard miniDV tape. The handi-cam sports a typical prosumer feature set including Firewire interface for data transfer, balanced audio connections and a built-in image stabilizer, but the proprietary HD codec allows MPEG-compressed HD video to be stored and edited onboard. The model will be available next month from JVC, and it may prove to be a videographer's dream or even an interesting possibility for news and entertainment organizations looking to expand their HD production.
Eight additional companies received Pick Hit awards in this area: Cine Bags for its production equipment bag; Digital Voodoo for its HD/Vengeance video cards; DNF Controls for its DC-30 tally interface box; Drake for the FreeSpeak wireless intercom; Horita for the Script Kit logging clipboard; Snell & Wilcox for the Ukon conversion platform; Wohler for the MONFlex LCD video monitor; and Zenith for its P50W28A HDTV monitor/display.
This year's show was more visitor-friendly than in previous years, and the more compact exhibit layout allowed our group a wider exposure in a more time-efficient itinerary. Fallout from the many "mega-mergers" of last year are finally settling down, and the manufacturers have returned to their core businesses — making interesting broadcast equipment that meets the industry's needs.
Scott G. Griffin is a principal and vice president of engineering at the Systems Group, a broadcast systems integration firm.
The latest product and technology information
Future US's leading brands bring the most important, up-to-date information right to your inbox