Harris complements NEO SuiteView with Layout Designer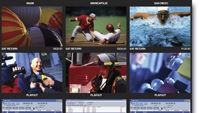 Harris released Layout Designer, a new software application that provides configuration, layout design and control of the Harris NEO SuiteView modular multiviewer. The new NEO SuiteView Layout Manager, Layout Designer offers customers an improved user interface, enhanced onscreen feedback and simple-to-implement alarms and audio monitoring.
With Layout Designer, users can configure their NEO SuiteView system settings, add and configure onscreen input audio and video alarms, calibrate display devices and modify individual PiP layout settings to create custom display layouts.
Layout Designer can read and edit all preset layouts and files stored on any locally or network-connected NEO SuiteView system. When installed on a local or network PC, Layout Designer communicates directly with a NEO SuiteView multiviewer via an RS-232 serial communications port or TCP/IP.
For more information, visit www.leitch.com/custserv/products.nsf/$All/D7E5F655DAD9C78885256DBA0050FBB3.