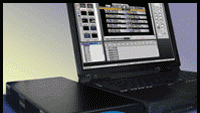 Networks are placing more emphasis on remote broadcasting to offer live, up-to-the-minute coverage, to the point where thousands of remote broadcasts now occur in the United States each year.

Chyron's SOLO is a mobile graphics and character generation solution that combines portable hardware and software with a familiar user interface.

At the same time, viewers are continually looking for ways to enrich their viewing experience. To meet these demands, broadcasters have stepped up their efforts to offer as many dynamic and interactive experiences as possible.
These are just some of the main factors behind the development of Chyron's SOLO, a mobile graphics and character generation solution that combines portable hardware and software with a familiar user interface.
The system was first developed in response to the needs of FOX Sports, which was looking for a portable graphics solution that also offered the ability to do basic digital video effects (DVE), character generation and real-time animation. Already familiar with the Chyron CG systems, FOX was looking for a way to get standard branding and CG capability into the hands of their field producers.
This would enable field producers to create content offline, prior to an event, then interface directly to the sports production vehicle with the portable systems. The producer would not have to fly to an event early to create content, and last-minute changes would be simple to integrate into a program. This capability would even reduce on-site personnel costs and provide a higher degree of creative freedom.
The network also wanted a portable solution that was compatible with its custom Chyron Application Library (CAL). CAL enables any Duet SD, LEX or PCI+ to generate graphics using automated data sources such as the live event clock, current scores and other live events.
After evaluating several types of hardware options, the most effective solution was a laptop-based system running CAL. This solution became SOLO, capable not only of using a customized CAL application, but also of running Chyron's Lyric content creation and playout software, and CAL programs like NewsCrawl. As a result, users can create, preview and go to air from any location.
SOLO is configured using a Chyron-specified laptop, a PCI Squeezeback board and an external PCI carrier that interfaces directly with the laptop through a cable and PCMCIA card. The PCI carrier measures only about 14 inches long, 5.5 inches wide and 1.7 inches deep, so a complete system can fit into a standard laptop carrying case. Operators can have portable 601 video capabilities by setting up the system in about four minutes and connecting it directly to the on-site infrastructure with standard BNCs.
The system will be available in two ways. The user can either purchase the laptop directly, after confirming the specifications from Chyron, or buy the complete system with bundled software from Chyron.
The system's mobility makes it useful in applications where DVE, lower thirds, or other branding and CG applications need to be closer to the source of the video. It's a single-channel system that provides a digital downstream keyer with bypass, SVGA preview, dual inputs for the PCI Squeezeback card, and a background video input. Software options include Lyric, which can be used to create CG graphics, lower thirds, flipbook or real-time animations, and iNFiNiT file import. In addition, Lyric can directly import up to 25 file types, can be set to operate in 4:3 or 16:9, and can create content for either SD or HD (SOLO is SD playout only).
While traditional CG systems are fully systemized offerings, SOLO represents Chyron's "user needs" approach. It can provide a robust, hardware system, but if only software or plug-in PCI cards are needed, Chyron provides that type of solution as well. This adaptability enables truly scalable applications, all with maximum flexibility.
Rich Hajdu is vice president of sales and marketing for Chyron.
Get the TV Tech Newsletter
The professional video industry's #1 source for news, trends and product and tech information. Sign up below.