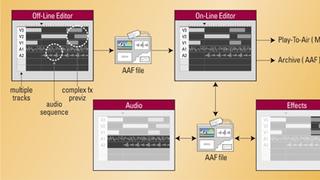 If you heard a story about someone who was still using 30-year- old television technology in post-production today, you'd probably smirk in disbelief. But, if you use post-production software from multiple manufacturers, or more than one computer platform for post production, or a second platform for compositing, you may be using such outdated technology yourself.
CMX invented the edit-decision list (EDL) more than 30 years ago. The company closed up shop almost five years ago, yet many of us still use this ancient technology to share editing decisions. In our digital, nonlinear era, this is a disgrace. There is a solution, but manufacturers need to know that customers would like them to implement it.

AAF enhances workflow by allowing specific parts of a composition to be sent to an appropriate application for treatment and then gathered back into the whole. Diagram courtesy of the AAF Association.

The solution is the Advanced Authoring Format, or AAF. It is a technology designed specifically for digital nonlinear post production and authoring. It is a "Super-EDL," but it is also much more. Its purpose is to solve the problems of cross-platform interoperability — operating post-production and authoring software from different manufacturers.
Today, we have a hodgepodge of video and audio formats that go into and out of the post production process. Furthermore, the media can make more "roundtrips" than the developers of EDL had anticipated. These media processes can include versioning, repurposing original content, outputting multiple formats to multiple delivery media, and workgroup processes (audio sweetening, graphics/effects compositing, offline, finishing).
There is a growing need for a solution that allows work to cross over multiple platforms, operating systems and software without the loss of creative decisions made on any one software package or platform. Users want to eliminate the redundancies of recreating those creative decisions (audio levels, custom effects, titling). We want to avoid the lose-lose choice between re-inputting original media or performing a time-consuming transcoding process because the media is incompatible with the process.
More importantly, we want more than an EDL limited to one video track and four audio tracks. We want an exchange interface that deals with different compression schemes, multilayer composites, multiple versions and multiple format outputs with multiple aspect ratios. We want EDLs to include:
library information
better audiovisual clip identification
media asset management information
scheduling data
effects information
information to facilitate interactive authoring
ease of working in various frame rates across platforms
File interchange
AAF is to digital editing/compositing what the EDL was to linear editing. The AAF solution has several components:
It supports the complex combination of a piece of essence and its associated metadata. This allows the content to be described as a media object.
It facilitates the cross-platform interchange of metadata or program content. (It is designed to replace OMFI.)
It allows operators to track the history of pieces of program content from source elements through final production.
It allows access to networked content files on remote platforms or storage.
It allows the combined essence in a selected format to be rendered later in the post process.
It catalogs an extensive list of audio and video effects with a rich set of built-in standard effects.
It provides a way to "wrap" elements of a project together for archiving.
It encapsulates HTML and XML content, includes translators, and supports HTML/XML output.
It provides for application program interfaces (APIs).
While designed to eliminate incompatibility and redundant tasks to expedite project management, AAF also allows a manufacturer to include proprietary metadata, while maintaining exclusive access to it.
An example might be a feature like Avid's script-notation alternative to bins-based media management. Avid holds a semi-exclusive license for this technology, and it can be included in the AAF proprietary metadata that Discreet, Quantel, Media 100, Adobe or FAST products cannot access. By the same token, the other manufacturers can add proprietary metadata that Avid's product cannot access. Thus, the AAF format allows for a compilation of standardized metadata and proprietary metadata.
At NAB2002, one of the biggest announcements in the Avid booth was the company's AAF-based MetaSync tracks on the Avid timeline. Avid demonstrated how the MetaSync tracks could be used for creating iTV programming, as well as everything from Web publishing and DVD authoring to creating amusement-park virtual-reality rides. Research firm Emarketer predicts that iTV will grow from 12.7 million U.S. households in 2001 to 22.1 million by the end of 2002. The MetaSync AAF metadata required to accommodate this growth is an excellent example of why a CMX EDL is no longer sufficient data.
Even Quantel, formerly known for high-quality (albeit expensive) closed-system/proprietary OS products, has recently announced a Generation Q series of products with an AAF-compatible family of post-production, graphics and broadcast-news solutions.
Open-source standard
AAF development is the responsibility of the AAF Association, incorporated in February 2000 as a nonprofit group. It is made up of hardware and software manufacturers and end-users who want to advance media and metadata interchange. (The association's Web site is www.aafassociation.org.)
At NAB2001, the AAF Association announced that its board of directors voted to make the technology open-source and available on Source Forge for a download. (LINUX is another example of an open-source solution.) This means that the software development kit (SDK) is free and downloadable from the Web site. Four hundred downloads have occurred in the past year since that announcement.
Version 1.01, incorporating AAF member contributions over the last year, is now available for download. The AAF Association has recently put those contributions through a process of testing and porting to all of AAF's supported platforms. The association also announced Version 1.5 implementation guidelines for edit interchange. This is an AAF Association guide to using AAF to model edit decisions (and you can use the v1.01 toolkit to implement these design implementations).
One new component of Version 1.01 is the availability of an AAF Explorer, which works in Windows to open and play AAF files. Also included are an EDL-to-AAF converter and an MPEG plug-in.
Shaping the technology
You may wonder why anyone would want to be a member of the association if the software is free. The answers include opportunities to shape the future evolution of the software and prioritize new features, as well as benefit from the association's publications and developer technical support.
In addition to its planned compliance with umbrella metadata standards under the SMPTE and EBU, the AAF Association is working with the International Standards Organization (ISO) and has a close development relationship with the Pro-MPEG Forum.
At NAB2002, there was an Industry Interoperability Center in the Las Vegas Convention Center where six manufacturers' systems displayed the benefits of such interchange technologies. In that center, one company, Oliver Morgan's MetaGlue www.metaglue.com, offered test, measurement and validation software for MXF and AAF interoperability as well as consultancy services for users, designers and implementers of metadata-intensive television-production systems. In addition, there were at least eight AAF-compatibility presentations on the convention floor at various manufacturers' booths.
Essence data
While AAF was designed to deal with metadata either married to essence media or linked to essence media but located elsewhere, AAF can be a native essence media file format. Such a file format, with essence wrapped in metadata, is mainly designed for post production needs. Remember that the ancestry of AAF includes the OMF interchange format.
One new development trend is using MXF media files with AAF metadata. Because of the depth of metadata associated with AAF media, there are advantages to associate the metadata with a separate but compatible media file format. (See sidebar "MXF and AAF" for additional information.)
The BBC announced its implementation of "Project Mercury" to create an AAF-based open-system architecture designed for the 21st century. This design incorporates both common media files and AAF metadata. Along with this announcement came a joint announcement that the BBC purchased 600 seats of AIST's new AAF-compliant Cinegy NLE software.
QuickTime is focused on information needed to play or stream the file. The AAF technology has a different focus. It is married to metadata that carries a history of processes from the original creation or storyboard through the final editing. Such information can make it easier to repurpose content, or provide distribution capabilities through media with differing aspect ratios, resolutions, etc.
At the show, the AAF organization indicated plans to wrap an AAF metadata container around any media file, so QuickTime or any other media could become part of an AAF metadata system.
A call to action
AAF technology can improve the post-production process. It can eliminate many tedious steps, saving time and simplifying project management. And it can preserve information normally lost when going from process to process. AAF makes it possible to select the best software for each process without data loss.
AAF products are available now. There were a large number of popular editors and compositors demonstrating AAF compatibility. If you want the benefits of AAF technology, contact your systems' manufacturer and ask when it will be available.
But many manufacturers have not yet begun AAF implementation. They say, in effect, "We are interested, but we just have not seen the demand yet. And it won't be that hard for us to incorporate AAF technology when the time is right."
The AAF Association has had a hard time communicating the benefits of this technology to the average user. But as soon as users understand how it will save them time and money, provide better quality and maybe even offer more creative choices, the demand will grow strong and loud.
Find out what AAF could mean for you. The benefits described here are only a part of what AAF will offer in the future. We can have a true cross-platform, cross-OS, cross-manufacturer transfer of content solution, and we will be able to select the software solutions we want without compromise.
Bob Turner is a 30-year veteran film and video editor and nonlinear editing system consultant.
Editor's note: The editor would like to acknowledge Brad Gilmer, executive director of the AAF Association and writer of Broadcast Engineering's "Computers and Networks" column, for his assistance with this article.
Get the TV Tech Newsletter
The professional video industry's #1 source for news, trends and product and tech information. Sign up below.