World Edition New Products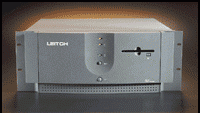 STORAGE TECHNOLOGY
Leitch shared storage technology: Storage architecture built on modular servers like the VR445 shown above provides integration of ingestion, packaging and transmission functions; scalable VR-445 servers act as Fibre Channel hosts for storage array modules, each holding up to 60 hours of MPEG-compliant video and audio; servers support multiple compression formats to facility system upgrades; MOS protocol enables browse viewing and rundown playback.
516-594-3372;www.leitch.com
REMOTE-CONTROL CAMERA SYSTEM
Camplex CP-601:
Delivers component or composite camera video signals, program audio, intercom, genlock or full bandwidth return video, and Aux video or IFB; universally interfaces with any professional industrial camera; uses a single coaxial cable to deliver all signals and camera power.
+1-620-342-7743;; www.camplex.com
ENCODER
Tandberg Television E5740 DSNG: High-performance, versatile and compact DSNG system; combines low bit-rate encoding performance previously only available in high-end system encoders with a versatile QPSK modulator (upgradeable to 8PSK and 16QAM) in a compact solution; range of features and options available; also offers a version with an L-Band output that includes support for mixing in a communications channel at L-Band.
407-380-7055;www.tandbergtv.com
SCAN CONVERTER
Magni MCP-601: First in a new line called MagniCoder Premier; the MCP-601 can seamlessly integrate digital DVI and XGA content with an SDI 601 or analog signal; this 1RU product offers several keying and effects capabilities that are typically available on more expensive devices; designed to convert the emerging, high-resolution computer DVI/XGA standard content, allowing it to be overlaid in real time onto an incoming SDI 601 or analog signal.
503-615-1900;www.magnisystems.com
MPEG-2 MEDIA SERVER
Vela MediaAdvantage:
Provides access to video management features such as time code aware recording, Longitudinal Time Code input/output, remote access, simultaneous encoding/decoding confidence monitoring, on-screen VGA display of input and output video, and playlist playback.
+1-727-507-5310;; www.vela.com
SWITCHER SERIES
Snell & Wilcox SwitchPack: Three SD and two HD compact switchers designed for live broadcast and post-production environments where space is at a premium; comprises a 1U SD mainframe and/or a 1U HD mainframe and a common control panel; the SwitchPack 16 features 16 inputs and five keyers, all of which are directly accessed from the control panel.
212-481-1830;www.snellwilcox.com
DIGITAL AD INSERTION
Sencore TSS3030:
Offers up to 64 simultaneous channels, advanced transport stream processing functions and robust architecture for guaranteed on-air time; material can be stored under a variety of MPEG-2 formats, and channels can be configured individually with bitrates from 3Mb/s to 100Mb/s to obtain the most effective bandwidth usage for each application.
+1-605-736-2673;www.sencore.com
RECORDER/SERVER
360 Systems' Image Server 2000
: Able to play three independent video programs at once, each with four digital audio channels; a video input is also provided, and recordings may be made while two video programs are playing; supports most MPEG-2 broadcast standards for NTSC and PAL, and can operate in Main or 4:2:2 Profile; employs a pair of Gigabit Ethernet ports for high-speed transfer of program material at low cost.
818-991-0360;www.360systems.com
ANALYZER
Bird Technologies Site Analyzer 1700:
Provides accurate and repeatable measurements; for sweep and distance-to-fault testing, the unit offers a high-resolution colory display, fast sweep rate, on-screen comparison of live and recalled trace overlays per report to compare antennas and track performance over time.
+1-866-695-4569;; www.bird-technologies.com
The latest product and technology information
Thank you for signing up to TV Tech. You will receive a verification email shortly.
There was a problem. Please refresh the page and try again.