WFMJ-TV Automates With Florical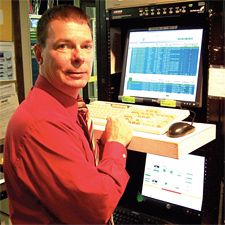 Bob Flis
YOUNGSTOWN, OHIO
WFMJ-TV is a locally-owned station and an NBC affiliate. Shortly after putting our digital signal on the air, we decided to add a second channel. At the time, the station's master control was not automated and we were playing all commercials and syndicated shows from tape. With the large amount of syndicated programming required by the WB Network (now The CW Network), we decided it was time to automate the entire record and playout process using servers. I selected Florical's automation for this project, as I knew the reliability and quality of the product.

REPEATS ARE EASY NOW

Part of the automation requirement necessary to fill the program schedule required us to repeat our number one-rated two hour morning news show on the second channel with different commercials.

Florical's NewsRepeater software fit our requirements perfectly. In conjunction with AirBoss—Florical's play-to-air system—we were able to schedule each news block to record as a separate segment and load the Florical database automatically with the in and out points. We then use the second channel's AirBoss to play out the news blocks with different commercials later in the morning.

We also used NewsRepeater during the last Summer Olympics to do our 11 p.m. news live on the second channel and then repeat it later after the Olympic coverage.

The station makes good use of ShowTimer for recording our syndicated shows. We normally take in some 60 to 70 feeds a day using ShowTimer. This software moves our satellite dishes, tunes receivers, switches the router and puts the server into record mode.

We also ingest about 20 shows a day using Florical's Pathfire interface to control the FTP transfer from the Pathfire servers to our playout server, along with the metadata for segment times. Approving a transferred show is easy, as it only takes a few minutes to spot check the segment times. While it's still standard procedure to check the segments, we've found it to be sufficiently accurate so that there's no need to change times.

LOOKING AHEAD

We're currently in the process of upgrading our SD master control to a true two-channel HD master control. Due to the success we've had with Florical we'll be refreshing the hardware and adding the company's Join In Progress (JIP) feature. As the server automation doesn't allow you to "play through" a show, JIP will allow us to cut away for a breaking news story and then get back into the show at the proper time. We'll also be adding ParkingSpot, a software addition that lets you add commercials and promos to a drop-down widow. This provides the operator with a list of material available for quick fills for breaking news or missing spots. We'll also be using the PCMP interface so that AirBoss can dynamically manage our PSIP program guide.

Florical's installation and customer support has been excellent. Moving from single channel manual tape playout to a fully automated server-based playout and a second channel was a challenge, but Florical was there the whole time to guide us along. I can't praise the customer support we've received enough either. We're looking forward to a long partnership with Florical as we travel down the digital road.

Bob Flis is the chief engineer at WFMJ-TV in Youngstown Ohio. He has worked in the Youngstown television market for more than 20 years and has been in the broadcasting business for 35 years. He may be contacted atbflis@wfmj.com.

For additional information, contact Florical Systems at 352-372-8326 or visitwww.florical.com.


The latest product and technology information
Future US's leading brands bring the most important, up-to-date information right to your inbox
Thank you for signing up to TV Technology. You will receive a verification email shortly.
There was a problem. Please refresh the page and try again.