SociallyU Offers Clients Speed and 4K Quality with Blackmagic MultiViews
This enhanced flexibility in monitoring all remote and in-house video sources is paramount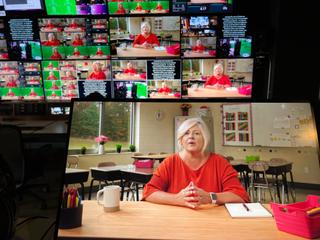 (Image credit: SociallyU)
CHATTANOOGA, Tenn.–At SociallyU, our slogan is: "We make videos as fast as you can talk." This reflects our commitment to delivering high quality videos in record time. SociallyU specializes in real-time editing and virtual production. With our innovative assembly line workflow and real-time keying, we provide clients with finished 4K content, usually the next business day.
SociallyU is proud to serve a diverse range of clients from all walks of life. Whether they're creating timeless content or going live for events, our clients include professionals from various industries, non-profits, corporate teams, and social media influencers.
Monitoring is Key
Delivering high quality content in record time to a range of clients means our workflow must be robust and flexible. For example, all 40 of our ATEM Constellation 8K switcher's inputs are filled in addition to our Smart Videohub 12G 40x40 router being completely full.
When you're managing a workflow of this magnitude, monitoring is key. It's why we rely on three Blackmagic MultiView 16s and one Blackmagic MultiView 4, all routed into the Smart Videohub 12G 40x40, which help us keep an eye on everything to make sure it's running smoothly.
One Blackmagic MultiView 16 shows our 15 Mac minis that we use for various tasks, including Keynote, Pro Presenter, etc. Additionally, it shows our ZoomISO feeds, so I can see all our remote guests waiting to be brought into our production.
Another Blackmagic MultiView 16 shows our Blackmagic Studio Camera 6K Pros along with the composited shot that is being generated by our Ultimatte 12 4K keyers and Unreal Engine. The third Blackmagic MultiView 16 shows our six HyperDeck broadcast decks, including recording status, how much recording time is left on the drive, and timecode for making editing notes. Additionally, two Blackmagic Web Presenter 4Ks run their monitor outs into this multiviewer, showing the status of our live streams.
Blackmagic MultiView 4 is our remote unit with all four inputs connected to our Smart Videohub 12G 40x40, so we can feed any four sources into it. Typically, we use this one for sending back a custom multiview to our audio engineers who join us via Zoom to mix sound remotely.
Often, they need to see the program view and a side shot of the studio to help us with mic placement. We usually route teleprompter and our status multiview into it as well, so they can follow along and help us with editing notes.
4K Output
This enhanced flexibility in monitoring all remote and in-house video sources is paramount. It's also a great way to show our clients all the resources we have at our disposal, such as Zoom guests, computers for keynotes, recording capacity, etc.
With the multiviewers' 4K output, we can clearly tell what each source is and read text within the multiview. Additionally, the built-in SDI pass through eliminates the need for distribution amplifiers. The multiviewers allow us to customize the views, like removing borders, labels, and audio meters, so that we display only what needs to be seen for the client.
From live events and fundraisers to evergreen content, we're dedicated to helping our clients leverage the power of video and reach their audience effectively, no matter their line of work. Whether you're a CEO, hosting a virtual event, or appearing on live national TV, trust SociallyU to elevate your video content to new heights.
For more information about SociallyU, call 423-375-0183 or visit www.sociallyu.com.
For additional information, contact Blackmagic Design at 408-954-0500 or visit www.blackmagicdesign.com.
Get the TV Tech Newsletter
The professional video industry's #1 source for news, trends and product and tech information. Sign up below.
Morgan Hiu is CTO and senior studio engineer at SociallyU.