Shooting the Big Apple for YouTube With ATOMOS Ninja V+
I thought this New York trip would be a great way to show off the Ninja V+ as an extremely useful yet relatively minimalist film accessory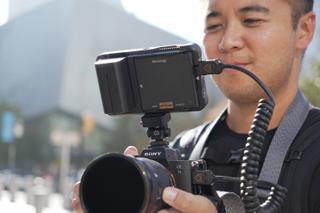 (Image credit: Sidney Diongzon)
DALLAS-FORT WORTH–I love to tell stories through my camera, and over the years I have discovered that I love to help others do the same. I started my YouTube channel (www.youtube.com/@SidneyDiongzon) as a way to do this, through practical tutorials, cinematic visuals, gear reviews and behind-the-scenes vlogs. In doing so I've had the opportunity to meet some amazing people, work with some great brands and go to some incredible places.
Recently I went to New York City to hang out with my YouTube friends to film some content and of course, film each other, as YouTubers do. For his shoot, I took the ATOMOS Ninja V+ to help me capture what life is like in New York City (at least from a tourist filmmaker's perspective).
ProRes RAW Recording
I've been using the Ninja V+ for several months now, to film different projects in a variety of locations and settings, and I thought this New York trip would be a great way to show off the Ninja V+ as an extremely useful yet relatively minimalist film accessory.
If you don't know what an ATOMOS Ninja V+ is, it's both a monitor and a recorder, so you get to record ProRes RAW video straight from your camera, even though it doesn't support RAW output on its own.
While the Ninja V+ has many image control features, I mainly use it to help me nail my exposure, but I also use the focus peaking and waveform monitor. I've installed my own LUT as well, so I can see what the final result will look like without having to do all that stuff in post. Typically, I'll rely on just a handful of options.
For this trip I took my Sony A7SIII paired with the Sony FE 24-70mm f2.8 G Master Mark II lens. With that combo you can film pretty much everything, from a wide shot at 24mm to a close-up at 70mm. But I did say "pretty much."
Shooting in Times Square requires a wider lens (as we've all seen on TV and in movies), so I also brought my Sony 16-35 f2.8 G Master Mark II. I also recommend a variable ND filter to help control your exposure. I use a PolarPro 95mm Peter McKinnon Signature Edition II Variable ND filter and I love it.
I think one of the coolest things about using a large display / monitor, like the ATOMOS Ninja V+, is the fact that you can see things a lot better. The extra screen real estate really is much better than the tiny little camera screen.
Light Enough for Travel
I know that's a weird thing to say, but strangely the Ninja's big screen helped me slow down and be more intentional with every shot that I took in New York. The grid lines helped me level out the scene, the exposure tools like false color and zebras helped me make sure that my shots looked great. The focusing tools like focus peaking and the zoom tool help me nail the shot, and overall, it was just super easy to use.
The touchscreen display is bright at 1,000 nits. So bright, in fact, that in daylight I found that I never needed to use the Ninja's sunhood. But keep in mind that this was New York City, with lots of skyscrapers shielding me from direct sunlight. If I were in a much more open outdoor setting with direct sunlight, that sunhood accessory would definitely come into play.
And while the Ninja V+ is large enough to see what you're filming and view playback, it's small and light enough that I can pack it in my bag and take it to a place like New York.
More information is available at www.atomos.com.
The latest product and technology information
Future US's leading brands bring the most important, up-to-date information right to your inbox
Sidney Diongzon, Founder of Story Chasers, is an accomplished video producer and editor skilled in effective storytelling, with over 10 years' experience.
The latest product and technology information
Thank you for signing up to TV Tech. You will receive a verification email shortly.
There was a problem. Please refresh the page and try again.