Sennheiser announces evolution wireless G3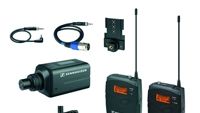 At the recent ProLight+Sound show in Frankfurt, Germany, Sennheiser introduced the third generation of its evolution wireless G3 series. The G3 systems feature fast, easy setup with infrared transmitter link, a frequency management system and up to 1680 selectable channels across 42MHz of switching bandwidth. As in previous generations of the G3 line, there will be 100, 300 and 500 Series microphone systems. In addition, the new evolution includes dedicated ENG and in-ear monitoring lines.
Audio performance now extends down to 25Hz, and all systems offer a soundcheck mode for audio level and RF strength monitoring, as well as an EQ section with bass and treble adjustments. All portable transmitters and receivers can be powered by standard batteries or special Sennheiser rechargeable battery packs. The 300 and 500 Series systems benefit from an Ethernet port of the receiver, enabling PC control via Sennheiser Wireless Systems Manager software. Only the premium 500 Series offers the company's MKE 2 Gold lavalier mic.
The evolution ENG line is based on the metal-encased EK 100 G3 diversity receiver, with four different transmitters available, including a plug-on transmitter for use with conventional XLR microphones. Other transmitter options include a cardioid dynamic handheld and bodypack system with omni and cardioid lavalier mic; all are switchable between 10mW and 30mW output. The receiver features adaptive diversity, using the line cable as a second antenna to aid reception.
In the Americas, the Sennheiser evolution G3 systems will be available beginning July 2009, with the new 100 ENG G3 system scheduled for August. Sennheiser will be showing the evolution G3 wireless at NAB Booth N6502.