Peru Is on a Lawo-Fueled Mission
How Latina brought the FIFA World Cup to Peruvian viewers, courtesy of Lawo's mc² console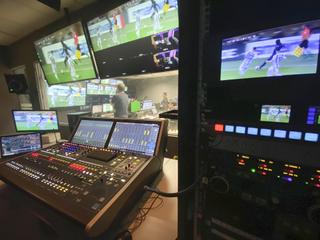 (Image credit: Latina)
LIMA, Peru—My first experience with a Lawo desk was about nine years ago, at RPP Group, a popular radio station. It was among the first in Peru to implement visual radio and it then refined the concept by adding television programming to its multiplatform broadcast offering, which today encompasses radio, TV and web streaming.
The setup involved a Lawo sapphire radio console and an mc²56 Audio Production Console that needed to exchange data in a dependable fashion. More than 70 channels were configured on RPP's mc²56 console for lightning-fast access and convenient mixing of a variety of program material.
I currently work at Latina, a TV station dedicated to the production of news programs, entertainment, sports, magazines, primetime shows, and more. My audio engineering colleagues and I enjoy working with the Lawo technology there, which was introduced a few years ago to facilitate the leap from analog to digital.
Connected Studios
Latina has seven studios, each equipped with a Compact I/O unit connected over fiber-optic links to make all audio channels accessible from any mc²36 console in any audio control room. Routing the studio I/Os to the required console is straightforward, and this is a great help for us.
The station owns a plug-in-based WAVES SoundGrid DSP server, which can be connected to the desired console via a Digigrid MGO optical interface. All audio consoles are conveniently linked to a network switch, so that the DSP server is available to the engineer who needs it. The WAVES plug-ins and settings can be tweaked directly on the console screen.
Latina TV was the Peruvian rightsholder for the 2022 FIFA World Cup in Qatar, and I was fortunate enough to be in charge of the live matches. We decoded the Enhanced TV Binary Interchange Format (EBIF) signals received from FIFA in such a way as to isolate the ambience microphone and backup audio channels.
We then added the audio signals from our commentators and correspondents in Qatar to this sound bed, which we de-embedded using a V__pro8. This approach allowed me to create an audio mix for viewers in Peru.
Ready for the Future
One might argue that some of the devices mentioned above have been discontinued. But they are still relevant: the power and flexibility of these components meet the requirements of the leading media in our country. I am the first to admit, though, that I cannot wait to take Lawo's next-generation technology for a spin, because I know it will make my work easier still.
Alas, live coverage of sporting events in immersive audio is not in the cards for Peru just yet, even though I am eager to produce in this exciting audio format. It will be a big step for me, but I know I can rely on Lawo's console technology and superior audio quality to produce exciting results. I have already started experimenting with immersive audio and am familiar with the basic notions.
Given the flexibility and intuitive user interface of Lawo's mc² consoles, which I have grown very fond of, I am sure that they will inspire me to explore new ideas that will make TV productions in my country more compelling and add an extra dimension to our storytelling.
On a personal note, I have fond memories of my visit to Lawo's HQ in Rastatt, Germany. The enthusiasm and passion I experienced there were amazing. I would like to thank everybody I met in Rastatt for their hospitality, friendship, and accessibility. I was encouraged to ask a lot of questions, and every reply I received showed me that Lawo is on a long-term mission to achieve excellence. l
For more information visit https://lawo.com.
The latest product and technology information
Future US's leading brands bring the most important, up-to-date information right to your inbox
Victor Solis Talaverano is a professional sound engineer at Latina.pe with more than 12 years of experience working for radio, television and web media in Peru. He has worked for radio and TV stations such as Studio 92, Oxigeno, RPP radio, RPP TV, ATV, and many others.