ND SatCom, rt1.tv partner on SNG comfort.link offering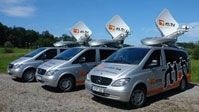 ND SatCom has formed a technology partnership with Augsburg, Germany-based satellite newsgathering (SNG) service provider rt1.tv.
Beginning in late summer 2007, rt1.tv will offer a new service called comfort.link, which includes a network of SNG vehicles operated by remote control.
The comfort.link offering includes an SNG vehicle with integrated satellite uplink, satellite capacity and operational service. ND SatCom's responsibilities include system integration of the SNG vehicles and provisioning of all software and hardware components required for network operation, whereas rt1.tv operates the network and provides network service.
For more information, visit www.ndsatcom.com.