MultiDyne Solves Audio Downmix Problem for KAMU-TV
The NBX-5.1-DMX-PCM-3G downmixer fits seamlessly into our studio infrastructure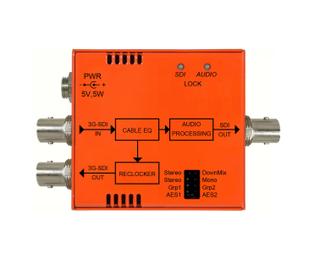 (Image credit: Multidyne)
COLLEGE STATION, Texas—Texas A&M University is the home to KAMU-TV and FM, the primary PBS and NPR member stations serving College Station and the Brazos Valley. With reach into the Waco, Temple and Killeen markets, we reach thousands of viewers and listeners over the air, including three digital TV channels (national PBS programming, Create and PBS Kids).
PBS continues to strengthen its streaming presence to reach more viewers through initiatives like PBS Passport, which provides members with extended access to on-demand programming. PBS also provides free live TV streams at PBS.org, embedding the local member station's feed into a branded web player (as in "KAMU Livestream").
Downmixing Problems
A recent change in the national PBS delivery systems caught the attention of KAMU Livestream viewers, which turned into a problem-solving mission to correct a perplexing audio issue. PBS made a change to the technology infrastructure of its centralized encoding system, which feeds live TV streams to member station web players.
The previous system automatically downmixed 5.1 broadcast program audio to a 2.0 stereo mix for web streams at the handoff point from the encoder. As one of the first stations added to the new encoding infrastructure, we soon began receiving calls from KAMU Livestream viewers that they could only hear odd noises. We quickly confirmed that channels one and two of the 5.1 surround feed were coming through, and realized we had a downmix problem on our hands.
We knew immediately that we wanted a problem-solving device that we could plug in to fix the problem. With limited budget and engineering resources, we wanted to avoid complex software solutions with downmix appliances that required extensive configuring, testing and finetuning to consistently downmix audio. We soon came across MultiDyne and its NanoBrix Series of distribution and conversion products, which includes a specialized audio product to specifically downmix surround audio to stereo.
Plug & Play
The NanoBrix NBX-5.1-DMX-PCM-3G is a miniature hardware downmixer that accepts embedded discrete multichannel audio and re-embeds a converted stereo downmix into the processed SDI output. The design is simple, with one input to take in the SDI signal, one SDI output with the embedded, processed audio, and a second reclocked output. This made for a quick plug-and-play installation. The downmix problem was solved upon connection.
The beauty of this product is that the problem was permanently solved. As previously mentioned, we wanted to avoid software solutions that required us to monitor and fine-tune settings. The NBX-5.1-DMX-PCM-3G positions two bi-color LEDs on the front of the device that indicate the presence of a valid SDI video signal, and the presence of embedded audio within that signal.
Same as a traffic light, green illumination confirms that everything is moving forward, while red illuminations indicate that the signal has come to a stop. This provides simple and straightforward signal monitoring in case we need to troubleshoot. To this point, illuminations remain consistently green.
The NBX-5.1-DMX-PCM-3G downmixer fits seamlessly into our studio infrastructure. The program audio is output from our master control switcher and into our router. The router passes the audio feed to the NBX-5.1-DMX-PCM-3G, which downmixes the audio and sends it back into the router. From there, the stereo feed is sent into our primary and secondary encoders, which feed the PBS infrastructure serving the KAMU Livestream viewers.
We also like the fact that if we expand our streaming architecture to other encoders, this product will automatically perform the same task since it is already part of our routing system. The NBX-5.1-DMX-PCM-3G is therefore not only a cost-effective and simple way to solve downmix problems today, but a futureproof solution for new downmix requirements added down the road. l
For more information, visit www.multidyne.com.
The latest product and technology information
Future US's leading brands bring the most important, up-to-date information right to your inbox
Leonard Welch is the associate director of KAMU-TV/FM.