Interface Communications Relies on Frezzi for Super Bowl LVII Coverage
During the event, our Frezzi 300WH High Power Lithium Ion Battery ran for seven hours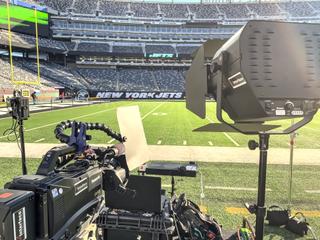 (Image credit: Frezzi)
FLUSHING, N.Y.—Interface Communications is an ENG & mobile production service provider in the New York metro area and we provide production services for major sporting and corporate events including the NBA Finals, Super Bowl, World Cup Soccer and the Olympics.
One of the key camera power products we use is the Frezzi 300WH High Power Lithium Ion Battery. This battery is capable of powering our camera for hours, which made it ideal for covering the Kansas City Chief vs. the Philadelphia Eagles at Super Bowl LVII. During this marquee event it ran for seven hours.
Extended Run-Time
The 300WH battery is powerful, compact and lightweight, which makes it easy to transport and use on the go. The extended run time we get means we don't have to worry about running out of power. It also has four Power Tap ports and two USB connectors to power our other gear and charge the mobile devices that we use to communicate. We also use these batteries as a "UPS" system for our Hitachi SK 1800 camera in lockdown configuration, when the battery backs up the camera SHED power in the event of a loss of primary power.
These rugged batteries can handle the abuses of daily use and even the occasional accidental drop. Knowing that it is fully serviceable by Frezzi should anything happen makes it a great long-term investment, something we seriously rely on as a family-owned and operated business.
We also use the Frezzi SkyLight 200WH HMI equivalent. This powerful lighting solution delivers high-quality light for locker room and sideline interviews, providing a bright and smooth single shadow light, and can run on a single broadcast battery for more than an hour. This is critical as AC is not readily available in such situations, and unlike the Skylight, most DC lights do not have a lot of punch. It's very compact, weather-proof, easily transported, easy to set up and use.
Hight-Output Lighting
Another part of our kit includes the Frezzi SunLight 600W HMI equivalent that we use for high-output lighting. This powerful 600W HMI equivalent light provides an even, bright light perfect for competing with the sun. It can also be powered by DC, making it great for interviews and other coverage without using AC power. It's also weather-proof, compact, and very lightweight compared to other high-power LEDs, making it easy to set up.
Their size and power allowed us to properly light a multicamera morning show for ESPN aboard a moving speedboat in New York harbor last summer—all on battery power. I'm interested to see the next generation SunLight 2 in a smaller case that outputs 800W HMI equivalent.
All Frezzi are ENG-ready and can withstand the rigors of daily use in any weather condition. This allows us to provide high-quality coverage for these prestigious sporting events in any weather and with the confidence that the gear will work. We rely on Frezzi to provide the power and lighting solutions we need to capture every moment.
For more information about Frezzi visit www.frezzi.com.
Get the TV Tech Newsletter
The professional video industry's #1 source for news, trends and product and tech information. Sign up below.
Jimmy Amperiadis is the equipment supervisor at Interface Communications. Interface Communications was formed in 1999 to provide improved high quality mobile television production and today they provide worldwide production services for broadcast and corporate organizations. He can be reached at 718-541-3423. More information about the company can be found at www.interfacetv.com.