Genelec continues push into broadcast with DSP-based loudspeaker solutions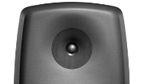 While some suggest that speakers with digital inputs are the answer to a question nobody is asking, Genelec's approach is to have leading-edge designs available before their customer base requires them. "The concept is to understand what the customer does and how they do it," said William Eggleston, Genelec marketing director for the United States, "and we see mixing consoles that have digital buses for mixing and monitoring. So a digital speaker and inputs integrate very nicely, and you avoid an entire digital-analog conversion stage."
Most of today's installations remain analog at the outputs, and for good reason. Analog works, and if it's not broken, few facilities are inclined to commit to a fundamental change like digital-input speakers. "Broadcast is a big part of our business, and some of the more forward-looking companies have shown interest," Eggleston said. "The guys at CNN, for example, have bought into it. They see the value in a DSP speaker. There are so many things you can accommodate, like automating control of the acoustic environment in a control room or truck. You can't change the reverberation characteristic of a room, but you can certainly nullify some problems and impart a more true sound. Once you integrate the software package into a network audio system, you get a very demonstrable difference — 99 times out of 100."
Many of the advantages of a digital approach to loudspeakers lie in making it easier to achieve audio excellence in problematic environments. "Many benefits of DSP control lie in the implementation, rather than the functionality," Eggleston said. "We've had some of these controls on our analog products since Day 1 — bass tilt, tone controls, what have you. But half the people never touch them. They put the loudspeaker against the wall, it gets boom and they don't even think about using the tilt switch and bringing it down. The loudspeaker gets blamed for the bad audio. The nice thing about a digital system is you can fix a problem like that with the touch of a button. That's a very real benefit."
As a company, Genelec understands that core changes in infrastructure take time to find a place in the market. In the case of DSP loudspeakers, there's a cost associated with that, and most facilities won't make a change until the benefits are proven in the field. That's why all of Genelec's digital-input speakers are also available with traditional analog connections as well.
In the meantime, Genelec continues to produce analog products that meet current needs. A new addition to the 8000 series, the 8260A, is a 24in, three-way DSP speaker designed to minimize discontinuities by integrating the midrange and tweeter into the waveguide. "Controlling dispersion characteristics through waveguide design is something we've been doing since 1983," Eggleston said. "The more direct sound you get, the less interaction the room imparts, which is critical. That was our focus in designing the 8260."
Designed for the post-production market, the 8260 offers more than "full range" reproduction, going from 27Hz up to 36kHz, and is aggressively loud, with a pair attaining peaks of up to 121dB at 1m, making it ideal for production and theatrical environments of about 5000cubic ft.
Genelec also recently released the N38CF, a product design driven by a European broadcaster that wanted a flat, closed-box design. "They came to us knowing exactly what they wanted," Eggleston said, "which was more about the physical shape of the box, which sits behind a screen. Low-frequency response wasn't an issue, since they use a separate subwoofer. So we designed this to their specifications, and they're very happy with it. So we're bringing it to the U.S. market. That's the benefit of working directly with customers. Everyone wins."
In a 2009 that was very difficult for most companies, Genelec posted a positive year. "I would say our business is up a little, probably about 1dB, with a slightly rising high end," Eggleston said with a chuckle. He stresses that the biggest part of Genelec's ongoing success is their philosophy of embracing new technology while taking into greater account customer needs. "The goal is to have the right solutions available before they're needed," he said. "From our standpoint, we have a first generation of DSP loudspeaker products now. Their acceptance has been very positive, and we've learned a lot in the process. So we will do a second generation, and we'll see where we end up 10 years from now. It should be a very good place."