Audio takes center stage at NAB2009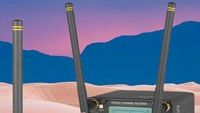 While NAB2009 will be remembered by many for its wider aisles, reduced exhibitry and lower attendance, audio manufacturers were kept busy by broadcasters intent on preventing audience complaints related to the June 12 transition to DTV across the United States. "Viewer expectations are that most all programming will be in surround sound, and broadcasters now realize the importance of keeping that surround indicator lit to minimize audience complaints," said Randy Conrod, product manager for digital products with Harris. "This is especially problematic in the integration of network with locally produced program materials."
Among the solutions proposed by Harris is the integration of DTS Neural Surround UpMix, DownMix, MultiMerge and Loudness Control options into its audio and video processing products, such as the X75 multiprocessor, the X85 multiapplication platform and the 6800+ and NEO processing platforms. At NAB, Harris also demonstrated its Platinum router, which provides embedded audio/video routing in a single chassis.
Wohler Technologies introduced its AMP2-16-3G, a 16-channel, 3Gb/s audio monitor that displays up to 16 channels of embedded audio within a single 3Gb/s signal. In addition, the company showed the AMP1-E16-3G and AMP1-16-3G, its first 1RU audio monitor with Dolby Digital and Dolby E upgrade capability. Three LCD screens show 180-segment metering of all 16 channels as well as video source and data, and both feature integrated loudness measurement and dialnorm data with on-screen alerts if signals fail to comply with ITU loudness standards.
The loudness experts at Linear Acoustic introduced the AERO.qc, an audio quality control device that combines tools for loudness measurement and correction, selective upmixing, metering and monitoring. The unit is designed for use at the head of the program chain to ensure program audio consistency throughout the system. Linear Acoustic has also added encoding for the new Dolby Pulse to its AERO.air transmission loudness manager, making the company among the first to integrate the new format.
With an industrywide need to ensure audio quality, Studio Technologies has introduced a broadcast-optimized confidence monitoring control system, ideal for master control rooms. The Model 76DB/Model 77 surround monitoring system offers multisource selection, dialnorm support, one-touch access of stereo and mono downmix, channel solo and level adjustment in a compact, intuitive desktop controller. The unit also offers both analog and digital speaker outputs, making it compatible with the new generation of digital-input surround speakers by firms such as Genelec and JBL Professional.
Of course, most people associate audio control with mixing consoles, and NAB had no shortage of new products in that area. Calrec Audio introduced its new Apollo console, which features enormous processing and signal path capabilities owing to its new proprietary DSP platform, Bluefin2. Apollo offers more than 1000 processing paths at 48kHz rates, includes a second dynamics section in each channel and more than 70 minutes of assignable delay. It can be set up for three-user operation with independent APFL systems, and no resources need be shared.
Solid State Logic also announced a major new desk, the C10 HD, an upgraded, more compact design that integrates all DSP processing and operating hardware into a convection-cooled control surface. A new control surface layout provides visual feedback through a series of TFT screens to provide fast visual feedback and navigation. The C10 HD is aimed at the smaller broadcaster seeking robust performance with limited space and budget.
Wheatstone introduced an impressive three new consoles at the show. Its new flagship console is the D-5.2, designed for major market live news. The D-5.2 accommodates up to 146 faders and all controls immediately at hand for fast changes without unneeded software navigation. The D-8 surround-sound audio console is a full-featured 30-fader mixer with touch-screen control, priced specifically for mid- and small-market stations. The D-16 is an update of the company's established D-12 model with eight added aux sends in a space-efficient blueprint ideal for small rooms and OB trucks.
Euphonix offered upgrades to its mixer line as well, unveiling the SP663 DSP card for its S5 Fusion mixing system, creating higher channel counts. A new control surface option for the S5 Fusion allows up to 56 faders. Euphonix also announced a new strategic partnership with Klotz Digital that will enable the company to offer solutions that integrate the Klotz VADIS backbone to allow access to every device and input source throughout a studio or OB facility.
Of course, as we stream toward June 12, the need for upgraded wireless systems also becomes paramount. Again, NAB did not disappoint. Lectrosonics announced the imminent shipment of its D4 digital wireless system, a four-channel point-to-point design that operates in the ISM band of 902-928MHz. The system has both analog and digital inputs and outputs and is extremely portable, making it ideal for bag systems in the field. AKG demonstrated its new digital wireless system, the DMS 700, which offers a 1505MHz tuning bandwidth, all in the safe sub-698MHz region. Finally, Sennheiser announced an all-new wireless system, the 2000 Series, which offers several new design features, including Ethernet addressability and integrated antenna splitting for up to 16 channels.
Overall, the audio side of NAB was a vibrant and competitive place, with a range of new products, integrated solutions and product upgrades designed to meet broadcaster needs starting from capture and ingest and continuing through production, post and final transmission.
The latest product and technology information
Future US's leading brands bring the most important, up-to-date information right to your inbox
Thank you for signing up to TV Technology. You will receive a verification email shortly.
There was a problem. Please refresh the page and try again.