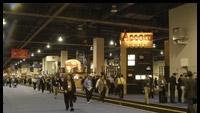 Now that the new digital television standards are finalized (sort of) and the conversion to the all-digital TV environment is well under way, broadcasters are looking at other areas for improvement. While this year's NAB saw attendance decline for the second year in a row, one area that's enjoying increased emphasis and at least a little growth is audio, for both broadcasting and video post production.

Consumer demand for better audio may have led to increased traffic by audio booths at the show. Convention photos by Doug Schwartz.

Be it surround sound for video and television and HD, satellite radio, or digital video and audio post production, it was all on display at this year's convention. The audio heavyweights were in full attendance: Tascam, Otari, Telex, Sonic Foundry, Sennheiser, Mackie Designs, AKG, Sonic Solutions and many others. Over 1300 A/V manufacturers showed the latest and greatest in audio products to media professionals. The north hall of the Las Vegas Convention Center was full of both established and new audio manufacturers and, while exhibitors were enthusiastic, it remains to be seen if attendees felt the same way. Only the final delivery of equipment ordered here will tell the full tale. This year traffic seemed lighter than in past shows, due no doubt to the economy and security concerns, but also because the adoption of digital television in general — and new technology like TV for Web, satellite audio narrowcasting, DVD-audio and MPEG-4 in particular — is developing at a snail's pace.
One area that's currently stalled in what was a rapid adoption curve is surround sound technology. According to CES, add-on 5.1 audio systems for home TV systems are one of the fastest growing sales areas in A/V-land. The FCC has mandated TV stations to broadcast a digital TV signal, which includes digital surround sound support. While in general it's the best year for new audio products in quite a while, when it comes to 5.1, the conundrum is which will come first: higher-quality broadcast facilities for delivering better content, or the high-quality home playback systems for receiving that content?
Consumers seem to favor 5.1 playback systems even more than HDTV or 16:9 sets. Making sure your programming content is surround-capable could be the best bet in town. The challenge with 5.1, HD and DVD-A is providing content that is compatible with the wide variety of consumer playback technologies and configurations available. As more folks buy a particular DVD or surround technology this should change. The simple reality is that digital audio technology continues to grow more powerful, and gains more customers, as it drops in price. This year, digital audio recording decks and ruggedized portable field gear were popular. Full surround sound capability with higher 24-bit at 196kHz resolution was also evident. It's getting cheaper to produce better quality audio. And as automation and networking features crop up across the board, from flagship systems to mid-level products, this trend will continue. Comprehensive audio media management solutions and products for Internet audio broadcasting, as well as developments on surround for television, were to be found down every aisle. But almost every audio engineer and station owner we spoke with felt solutions were overpriced.
The switch to the new digital television standard by mid-decade is not the only factor propelling today's newer digital audio technologies. As broadcasters seek to diversify, new models like Internet simulcast and audio Webcasting are becoming the norm. On the home front DVD-A (audio on DVD) is perhaps a bit stalled, but still growing in numbers. As is usually the case, perhaps it's the American consumer who's driving the increased emphasis on audio fidelity. More households are installing 5:1 surround sound systems (the single most popular TV-related addition, according to the CEA) and, at the same time, broadcasters are able to transmit a better audio signal via the increased bandwidth of DTV. Because of this, audio is enjoying a solid growth curve. In fact, the audio and radio booths were more crowded than their video counterparts during the annual four-day gear fest. But that's not saying much!
A cast of companies
NAB2003 had over 750 audio equipment manufacturers showing their wares. While space does not allow us to mention all of them, here are a representative few and what they were demonstrating.
Sony, though known for its video products, also had plenty of audio solutions to show. The new DMX-P01 digital portable mixer offers full 24-bit processing and a sampling rate of either 48kHz or 96kHz. At a lower price point, the new SRP-X700P digital powered mixer is designed to process material from a wide range of sources including microphones, video, audio, DVD players, audio tape recorders and computers. Sony also had new wireless microphone systems including the UWP-series UHF synthesized wireless microphone system.
Dolby had one of the most interesting booths, featuring several education seminars, including four separate kiosks highlighting Dolby Digital 5.1-channel sound-enabled television programs produced by ABC, CBS, FOX and PBS. Demonstrations included the Dolby products required by each affiliate station to receive and distribute surround audio within its facilities, and transmit Dolby Digital 5.1 audio to viewers. Broadcasters could view a typical uplink configuration and learn how to upgrade an existing two-channel facility to include Dolby Digital 5.1-channel capability. Dolby was also showing its LM-100 loudness meter, which was awarded a Pick Hit.
SRS Labs showed off its new Circle Surround (CS) technology, a multichannel audio encode and decode system capable of supporting a wide range of surround sound creation and playback applications. Tutorials on how to mix for and use Circle Surround using the company's CSE-07 and CSD-07 professional hardware products to deliver 5.1- or 6.1-channel surround sound over any existing two-channel carrier were SRO. The company said it expects to unveil software products and plug-in tools that support production software standards such as Digidesign's Protools 6.0 and Windows Media Encoder in the near future. CS hardware and software encoders can encode up to 6.1 channels of discrete audio for distribution over existing two-channel carriers such as broadcast television, cable, streaming media over the Internet, CDs and VHS tapes. CS and technologies like it are becoming popular.
Yamaha's commercial audio division featured a number of new production products. The highly anticipated PM5000 analog mixing console includes many new features while retaining the layout and ergonomics of the PM4000. The DM1000 is a new digital production console that delivers 48 channels of transparent 24-bit/96kHz audio.
The unit features effects and processing, surround production features, integrated control for digital audio workstations and automated recording into one compact rack-mountable package.
Also debuting at NAB is the D-9TV digital television console from Wheatstone. Targeted at the needs of mid-market facilities, the modular series is available with four to 52 input faders with sample rate converters on each digital input. The D-9TV directs any source to any fader and features integral dynamics/EQ functions and snapshot recall. Other features include audio mix-minus, monitoring and talkback capabilities; 5.1 support; stereo master; and mono and subgroup outputs. Multiple control surfaces can share common resources, which continues the trend of feature flexibility seen over the past few years.
Anther noteworthy product was Calrec's Zeta 100, which received a Pick Hit. DVD recorders from Sony, Panasonic and Pioneer drew crowds, and Fostex showed a post-production DVD unit with Ethernet connections that allows broadcasters to bring media from a remote machine room, record in SD II or broadcast a .wav file without any conversion. It's HD-compatible, too. With more DVD cameras and VTRs showing up every year it's easy to see this format will be here for the foreseeable future.
From microphones and recorders to mixers and playback systems to broadcast transmitters or antenna systems, if it relates to audio it was at NAB. Perhaps one of the most innovative, if not foreshadowing, events was held on the very first day of the show. "The Radio & TV Idea Swap" saw moderators Rosanne Ryback, of Southern Minnesota Broadcasting, and Madelyn Bonnet of Emmis Communications (a TV station owner from New Orleans), run a simple but effective forum for participants from radio and television stations to share ideas and stories about revenue generation. Just from that one session one could see that today's broadcasters need to adopt better audio technologies to survive. Only after broadcasters adopt them will the American consumer follow suit. After all, what good is a high-definition TV or a 5.1 surround sound room with DVD-A playback if there's no content?
Tom Patrick McAuliffe is a journalist and consultant living in San Francisco.
The latest product and technology information
Future US's leading brands bring the most important, up-to-date information right to your inbox