Podcasting guru goes with Marantz portable recorder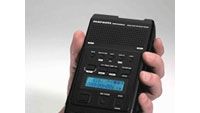 Rob Walch, president and founder of Podcast 411, a leading educational site on podcasting, uses the Marantz Professional PMD660 compact digital recorder exclusively for his podcast work. He notes that the PMD660 is compact, lightweight, easy to use and offers exceptional sound quality, making it particularly well suited to the needs of podcasters.
Walch launched Podcast 411 in late 2004, offering weekly podcast interviews with a wide range of business, political and entertainment celebrities, including Senator John Edwards, "Battlestar Galactica" executive producer Ron Moore and tech journalist Walt Mossberg from the "Wall Street Journal." In addition, Walch helps aspiring podcasters with educational services and provides podcasting services to a wide range of companies and organizations.
The PMD660 offers a choice of recording uncompressed WAV files at 44.1kHz or 48kHz, as well as 64kb/s mono or 128kb/s stereo in MP3 format. An optional 1GB flash card holds more than an hour of stereo or three hours mono of uncompressed audio, while the unit operates for up to four hours running on four standard AA batteries. The unit also has built-in stereo microphones and is compatible with an optional RC600 wired remote that attaches to most microphones.
For more information, visit www.d-mpro.com/users/folder.asp?FolderID=3629.