Sony embraces MetaData among new optical disc product offerings for NAB2003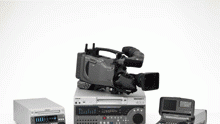 At its pre-NAB press conference in New York, Sony previewed several new products for the upcoming spring convention that make heavy use of metadata, that is, digital information about files, to quickly locate and retrieve scenes shot across optical disc cameras, optical recorders and nonlinear edit systems.
Using a 5-inch cartridge that Sony said can be recycled more than 1,000 times, the new optical system records both a high-resolution original, and a lower-resolution but frame-accurate video or audio file copy, called a "proxy." From the camcorder, or a battery-operated mobile deck, newsgathering teams will be able to transfer the proxy information (metadata) to laptop editors or back to the studio at up to 30 times (X) faster-than-real-time. With the optical camcorder, users mark their desired shots, identify them from a picture-stamp storyboard displayed on the camcorder's LCD monitor and play them back immediately.

A single disc holds 90 minutes of DVCAM (pictured) material or 45 minutes of MPEG IMX material recorded at 50 Mbps, 55 minutes at 40 Mbps, and 75 minutes at 30 Mbps.

This allows producers to start writing scripts immediately as the ENG crew arrives at the station. Based on those scripts, field engineers can transfer the high-res footage either as video or as a data file over an IP network, saving time. This proxy material can be transferred at up to 50X faster-than-real-time.
The disc camera offers the choice of recording video with the DVCAM codec at 25 Mbps or the MPEG IMX format at 30, 40 or 50 Mbps. Optical decks accept both formats and support the full range of analog A/V, digital A/V and information technology (IT) standards. This includes compatibility with IEEE 1394 (Sony calls it "i.LINK") and Ethernet interfaces for transferring footage as Material Exchange Format (MXF) files.
Optical media also provides practical disc advantages, such as split-second random access and no physical head contact during record/playback. A single disc holds 90 minutes of DVCAM material or 45 minutes of MPEG IMX material recorded at 50 Mbps, 55 minutes at 40 Mbps, and 75 minutes at 30 Mbps.
The two camcorders capture pictures with three 2/3-inch EX HAD image sensors and 12-bit analog-to-digital converters. Features include loop/interval recording on a built-in cache memory; Ethernet or wireless LAN interfaces through optional PC-CARD adaptors, and a 2.5-inch (viewable area, measured diagonally) LCD monitor for playback, marking good shots and re-sequencing clips.
While it records at DV 25 Mbps resolution in its current form, Sony's optical system uses professional blue laser technology--which delivers higher-recording capacity and bandwidth than current consumer "red laser" technology—that will enable the company to increase disc storage space to include high-definition recording in the future. "You can expect big things going forward," said Pat Whittingham, BSSC's president.
Sony's complete optical media line includes two professional disc camcorders and three VTRs; a battery-powered mobile deck, a compact (half-rack), nonlinear edit system (NLE) companion deck and a studio deck.
The battery-powered mobile deck plays back DVCAM and MPEG IMX recordings and displays them on the built-in LCD monitor. It supports up to 30X transfer of low-resolution proxy video over 1394 and Ethernet interfaces, in addition to MXF file transfers over a 100-BaseT network connection.
The NLE deck, which will be on display at NAB working with third-party NLE systems, is a half-rack feeding/recording unit that makes extensive use of metadata. It supports up to 5X transfer of full-resolution DVCAM audio and video and up to 50X transfer of proxy files.
The studio deck, with both DVCAM and MPEG IMX recording and playback, provides the necessary analog A/V, digital A/V and IT connections, including an i.LINK interface and Gigabit Ethernet port. It supports up to 5X transfer of full-resolution DVCAM audio and video and up to 50X of low-resolution proxy audio and video.
Both the NLE and the studio VTRs offer transfer speeds of 4:2:2 video from 4X real-time for MPEG 30Mbps to 2.5X real-time for MPEG 50Mbps. The studio deck works with both nonlinear and linear editing systems.
For more information visit www.sony.com/news.
Get the TV Tech Newsletter
The professional video industry's #1 source for news, trends and product and tech information. Sign up below.