Russia's NTV sounds good with new Euphonix console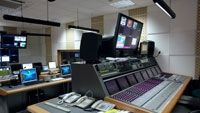 Russian TV company NTV has installed a 48-fader Euphonix System 5-B mixing console at its Moscow-based broadcast facility.
As one of the country's only private TV channels with federal status, NTV reaches 120 million Russian viewers and broadcasts to the Commonwealth of Independent States (CIS), Western Europe, parts of Asia, the United States and Canada. Earlier this year, the station repaired and renovated its infrastructure, re-equipped its station, increased its broadcast signal and expanded its programming to include feature films, popular talk shows and regular TV series.
The Euphonix System 5-B console includes a DF66 DSP SuperCore that offers a failsafe system to ensure seamless streaming audio in the event of a disruption. The DF66 is also the primary signal-processing engine and router for the System 5.
Euphonix offers a wide range of modular digital audio mixing solutions, from 32 to more than 400 channels, which can be tailored to meet the needs of any broadcast facility.
For more information, visit http://www.euphonix.com/.