Rockstar Media Group shoots music video with trio of HD cameras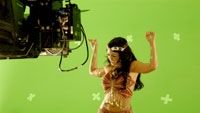 Rockstar Media Group, a Los Angeles-based boutique media and content production company, recently shot a complex music video launching new Island Def Jam Music Group rock artists The Urgency with three Panasonic HD cameras.
The AJ-HPX3000 native 1080p P2 HD camcorder, the AJ-HDC27H VariCam HD Cinema camera and the AG-HVX200 P2 HD handheld were used to shoot the more than three-minute piece "Fingertips."
The video was conceived and directed by Rockstar Media Group director Ryan Bosworth, with fellow director Jim Matlosz serving as director of photography. "Fingertips" is currently in rotation at mtvU on-air and online. The video can also be seen on many online music sites.
The three-camera shoot took place over the course of a single day at Hollywood's HIP Stages, with a green screen on two walls and the floor, with the HVX200 placed in the rafters of an 18ft ceiling (and other locations as needed), the VariCam set on a dolly and the HPX3000 on a crane.
Both the HPX3000 and VariCam were outfitted with Canon Cine Zoom lenses. Matlosz shot with a combination of AVC-Intra (HPX3000), DVCPRO HD (VariCam) and DVCPRO50 (HVX200); the project was edited in Final Cut Pro Studio 2. Selects were then exported to Compressor to be converted to the 10-bit uncompressed HD codec. The 10-bit footage was composited in Adobe After Effects CS3. The final delivery was a mix of DigiBeta, BetaSP and MiniDV. There was also a digital delivery of the HD master finished in 720p/24fps.
For more information, visit www.panasonic.com/broadcast.