Producing 3-D events elicits HD déjà vu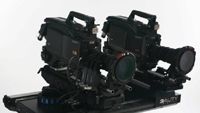 A lot of similarities can be drawn from comparing the early days of 2-D HD production and transmission to the current state of producing live events in three dimensions.
In September 1997 we saw the first HDTV broadcasts of a professional baseball game and later that year John Glenn's return to space. Both productions used early prototype HD cameras and terrestrial transmission systems that were successful albeit technically challenged.
This year saw the first live 3-D telecast of an NFL game captured in San Diego and transmitted to theaters in Boston, Los Angeles and New York. Once again the equipment used was prototype, and the broadcast suffered occasional hits that caused the picture to go dark.
The question on the minds of those interested in moving the format forward is: If it took about 10 years to bring HDTV in to consumers' home, will 3-D take just as long? There's the issue of cameras and production equipment being immature along with a lack of television sets that can display such 3-D signals. The same technology and market conditions existed in the late 1990s.
"With the way technology is moving today and as the number of productions, both for feature films and television, continues to grow, we're hoping it does not take as long for 3-D to get to the home," said David Modell, chairman of 3ality Digital Systems. His company recently produced the first live transmission of a 3-D NFL football game to three theaters in the United States, and will do it again for the upcoming FedEx Bowl Championship Series (BCS) National Championship Game between the University of Florida and University of Oklahoma. 3ality has also been involved with many of the milestone 3-D events in recent years, including a stunning U2 concert that saw widespread release in theaters.
Like early HDTV, 3-D creates several challenges for the broadcast industry. Production companies are realizing that crews need to be re-educated about the nuisances of capturing an event and bringing it into consumers' homes in a way that feels familiar to programs that came before it.
There's the positioning of cameras. In most stadiums and large venues, the best camera positions have been taken by traditional HD cameras, leaving little room for 3-D cameras with their larger size. There's framing issues for camera operators; they have to hold focus longer and minimize panning shots. There are new approaches for directors and TDs in the production truck; they have to be careful to match shots and depth of field from one camera to the next, or viewers will become disoriented.
For their part, production companies are wrestling with how to produce a game with the same number of trucks, keeping cost to producers as low as possible. With early HD, two separate trucks were required to produce both the SD and HD broadcasts. Today, the industry has figured out how to capture events in HD then downconvert for SD audiences with a single truck. For the upcoming BCS Championship Game, veteran mobile production company Game Creek Video will send two HD trucks — one for the HD telecast and a second for 3-D. The HD broadcast on FOX will be watched by millions, while the 3-D telecast will be seen by an estimated 14,000 spread out across 82 digital cinema theaters.
"There are a lot of similarities with HD and 3-D production, so we feel we can offer our clients systems that are not as expensive as the early days of HD and SD," said Pat Sullivan, president of Game Creek. "Initially we foresee sending a second unit to house all of the image processing workstations needed for 3-D, but we're in a much better position now than we were in the early days of HDTV."
The 3-D BCS Game event, sponsored by Sony Electronics, will be watched by about 1200 invited guests at the Paris Hotel during the 2009 Consumer Electronics Show (CES) in Las Vegas. At the CES convention beginning Jan. 8, several companies will show HDTV sets capable of displaying a 3-D picture, provided the viewer wears special polarized glasses. (They are a lot cooler than the wacky cardboard version with blue and red lenses.)
At the end of the day, there's no disputing the initial wow factor associated with watching 3-D content. With time and experience, the process will get better and less costly to produce. 3ality will use a Telecast Fiber Systems solution to break out the optical blocks of the Sony cameras and connect them to the bodies via fiber, cutting the cameras' size and weight by more than half. Better compression techniques will minimize transmission errors. And an increase in 3-D TV set penetration in the market will lead to an increased demand for more programming. [There's also an auto stereoscope process on the horizon that currently is very expansive to do but in about five years will make wearing 3-D glasses a thing of the past.]
With HDTV, we've seen it happen before.
The latest product and technology information
Future US's leading brands bring the most important, up-to-date information right to your inbox
Thank you for signing up to TV Technology. You will receive a verification email shortly.
There was a problem. Please refresh the page and try again.