NFL.com offers live look-ins of NFL Network games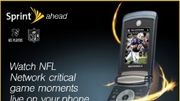 For the first time this season, NFL.com and NFL Mobile on Sprint are offering football fans live online and wireless video coverage of NFL Network games.
The look-in initiative kicked off with the Nov. 29th game between the Green Bay Packers and Dallas Cowboys. The game was featured on "NFL.com Live: Thursday and Saturday Night Football" presented by Sprint.
For fans that don't have access to the NFL Network, the live broadband broadcast covers games from all angles. "NFL.com Live: Thursday Night Football" is anchored by a live, originally produced video program, complimented by various interactive applications that give fans a look at NFL Network games and programming.
NFL.com Live is also available to mobile fans via NFL Mobile on Sprint, which streams NFL.com's video coverage. The video program consists of live look-ins, a live studio show and featured NFL Network programming.
With the look-ins, fans get a live look at NFL Network game action at :15 and :45 past each hour and during select action in the red zone (inside the 20-yard line). The NFL Network halftime show is also shown on NFL.com.
Live in-studio programming includes game highlights, analyses and previews of the NFL games ahead that week, in-studio guests, conversations with NFL Network talent on-site at the game and answers to questions submitted by fans on NFL.com.
Live, real-time statistics accompany the programming. Fans can match their play calls with the teams by "predicting" an upcoming play. There's also live blogging by experts from the NFL and NFL.com.
The service continues through the New England Patriots vs. New York Giants game at 8 p.m. on Dec. 29.