Moving Day for KWTV
BeckTV relocates Oklahoma City station to new downtown facility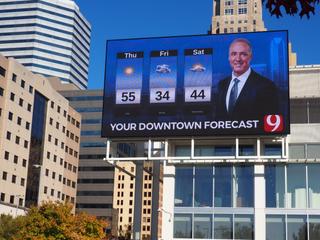 (Image credit: BeckTV)
OKLAHOMA CITY—After more than 60 years, Oklahoma City CBS affiliate KWTV and parent company Griffin Media decided it was time to move to a new home with more capabilities. To manage the move to downtown Oklahoma City, they called on design-build systems integrator BeckTV.
"Working with BeckTV was a natural choice," said Jack Mills, director of engineer for KWTV. "We've worked with them since the 1990s on multiple projects through the years. I appreciate working with them because of the quality of their work and expertise, from changing out a switcher to now having a new building."
Discussions about moving to a new building started almost three years ago, with KWTV engineering and design work by BeckTV starting in 2021. "There are a million things going on when building a new TV station, so the relationship needs to be efficient and productive," said Brenden Cline, senior engineer and director of engineering for BeckTV. "We have meetings with Jack on design, technical requirements, space planning, and workflow. Giving us that information up front means we get that efficiency with Jack and with the manufacturers we're dealing with. Seeing eye-to-eye on the technology and agreeing on how things should operate—that was exciting and the kind of projects that you want to do."
What Do We Take?
Working with the architect and general contractor, BeckTV could verify the space fit and furniture design, pathways for cabling and AC, and low voltage requirements, while simultaneously building the equipment list and specifying equipment a year ahead of time. FX Design Group was responsible for set and lighting design, while Digital Video Group handled the monitor layout and set technology. Onsite integration work began in June 2022; after five months, one month was dedicated to rehearsals, commissioning, and shadowing master control leading up to the cutover day.
Some of the decisions to be made were focused on what equipment to bring over from the existing facility, what would be purchased, and what might need to be borrowed during the transition. "We brought over our recent purchases, items that haven't been depreciated yet," said Mills.
For example, KWTV has three Grass Valley LDX 90 Worldcams still on the books. Those were brought to the new facility's news set, with Mills getting loaner cameras for the original building's news set during the transition. Also moved were KWTV's Dejero bonded cellular field systems, Vizrt system, master control servers, and 800 kW diesel generator.
While some equipment made the trip, KWTV did replace a lot of gear, Mills explained, because it was time to do so, anyway.
New equipment included:
Evertz routing with an integrated enterprise multiviewer and TDM audio router with integrated de-embedding
Evertz master control switcher and airpath
Clear-Com intercom with SIP for phone lines over IP
G&D KVM
Avid video production servers
Imagine Communications master control playout and automation systems
Three Ross XY camera robotics
Two Ross ACIDCams for the newsroom and greenscreen
Two smaller Ross PTZ cameras for studio ceiling beauty shots
Image Video tally system
Sony XVS-7000 3 M/E production switcher and ELC automation systems
Calrec audio console
Custom BeckTV consoles
The design of the news set, which is the same size as the set in the older facility, and the two-story open ceiling newsroom include a lot of LED screens. The newsroom features a large Daktronics LED screen that rotates art images and photos. The news studio has Philips LEDs on the anchor desk, LG LEDs behind the anchor desk, and Neoti LED panels for the wraparound weather desk.
(opens in new tab)
IP plays an important role by interconnecting the two facilities, which are 10 miles apart. "We kept a portion of the old building," Mills explained. "We were able to keep those IP addresses, which was very helpful, with four dark fibers between the buildings, one for satellite, one for STL, and two for a 10-gig IP pipe."
Strategic Communications
One of the keys to a successful live cutover is communications involving hours of strategic planning, coordination, installation, testing, training, and rehearsals. To ensure a smooth transition, BeckTV maintained a crew of two engineers and six technicians at the new site to install, commission, and support all new and repurposed systems.
The project team, led by project engineer Abel Sassehagen, systems engineer Christian Ramirez, and lead technician Travis Peterson, with management assistance from TJ Beardsmore, met with Griffin Media and KWTV on a weekly basis to review and discuss the project schedule, focusing on BeckTV and KWTV deliverables and goals. "We were using so much gear from the old facility that we had to move," Cline said. "We had to deal with loaners, new equipment with the scheduling of manufacturers' commissioning, how and when to transition. But with great communication, everyone knew the status of the station."
A simple homeowner moving task would become invaluable for the transition: tagging the status of the original equipment. "We had separate giant lists for master control and production control equipment," Cline explained, "with each piece and any dongles tagged as to when it would be removed from the rack and transported to the new building—specifically by week, day, hour, at cutover or after cutover."
When the equipment arrived at the new building, the crew knew exactly where to start to stand up the gear. "Of course, getting integrated into the new system sometimes meant bypassing with barrels," noted Cline. "Master control was first, with GPIs triggering all sort of secondary events so that it could mirror the original master control. Then we would focus on production control. Once stood up, production control gets fairly vetted with all the rehearsals."
Cutover in 3, 2, 1...
During the transition period on Nov. 12-13, KOTV, KWTV's sister station in Tulsa, handled the Saturday night and Sunday morning newscasts. This gave Cline and his crew the opportunity to transport almost all of the rest of the gear, a big part of which was the weather system with its independent audio and storm trackers. Cutover was scheduled for the Sunday 10 p.m. newscast.
"We did it during the day and on-air, and it was really just switching a switch," said Cline. "Since we were running in parallel and then switched to the new building, it was seamless to KWTV's viewers—but we could also fall back if we needed to. That takes a lot of planning." Additionally, KWTV's new master control system is designed to be a master control hub to include KOTV in Tulsa.
"This was a fun project," said Mills. "Of course, there were little fires, but all in all, a very enjoyable experience with BeckTV and all the other groups. It was interesting keeping everything running with all the contractors involved in the new building."
Cline added that it's "a little bit rare to work with people you worked with in the past and understand the process. Our product is delivering a good experience for the customer—typically the biggest project in their careers. We want them to feel comfortable and appreciate our people. But this one was special. I had a good time doing it."
This article originally appeared in TV Tech sister publication SCN.
The latest product and technology information
Future US's leading brands bring the most important, up-to-date information right to your inbox
Michael Silbergleid serves as president of Silverknight Consulting in Fort Myers, FL, a strategic communications firm serving the broadcast and media industries since 1999. Previously, he was editor of Television
Broadcast magazine and Sports TV Production, the first sports-dedicated trade magazine for the industry. He was manager of Educational Television and Telecommunication Engineering for the Huntsville City
School System in Alabama and has been a producer, director, video editor, chief engineer and facility designer. He holds an MA degree in Telecommunication and Film Management from the University of Alabama,
and two BA degrees in Dramatic Arts & Dance and in Speech Communications from SUNY Geneseo.