Gear on the Go for TV Crews of Any Size and Market
Reliability, lightweight top the list of requirements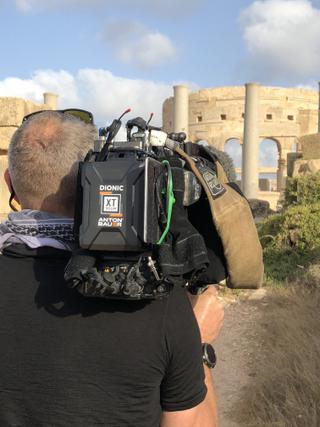 (Image credit: Anton Bauer)
SEATTLE—Early in my career as a news photographer, I was told that the perfect news shooter was 25 years old, with 20 years of experience. The station's personnel department could now probably tell you how that profile violated about 100 regulations.
But during those 20 years of experience gathering, that photog probably paid a lot of attention to what kind of gear made running and gunning news stories easier, or at least possible. Here are some suggestions.
Power Supplies
Newsgatherers often get sent into the heart of a disaster, and among the consequences the mayhem can cause is temporarily wiping out the electrical power grid. Power packs for cameras, lighting equipment, cellular modems and whatnot become necessities. In addition to the reliability of their products, battery pack makers keep adding new features to their wares.
PAG America Sales just rolled out a brand new battery pack family, the Mini PAG 1. "It comes in 50- or 99Wh models that are small and very lightweight," said Bob Carr, PAG America's sales director. "They feature two built in D-taps, and the 99 has a removable USB. They're compatible with the existing PAG battery packs and chargers already in the field."
One feature the PAG has long touted is its "PAG Link" system, which allows two or more battery packs to be plugged together. "The beauty of linking is two-fold," Carr explained. "One is that when you're ready to charge you can link up to eight battery packs up and charge them all at one time on one channel of the charger. And two, when you're shooting you can actually add a battery at any time, so it's a true hot swap system in a sense that you never have to stop shooting.
"One other feature that we're really excited about with the Mini PAG Link is that they're going to be reparable in the field," Carr added. "So now if people want to re-cell the batteries, it can be done safely, quickly, pretty much anywhere in the world."
It used to be that the media a news photographer was shooting onto, whether it be film, tape or solid state, was limited to a relatively short period of time. As long as you had enough batteries you could change to a new battery pack when you changed media. That's not the case anymore, with the advent of much larger files, or even worse, generating a continuous stream.
"We come across many users now who will use the battery up to 8, 10, 12 hours, continuously," said Andrew Hutton, product manager for Anton/Bauer batteries of Vitec Production Solutions. "So the battery has to keep up with that sort of capacity of storage media or sending it up to the cloud. This is particularly important because very modern cameras can take up to 90 seconds to power up to shoot again."
A/B's Dionic range is the perfect solution, Hutton said. "It features maximum portability, but with maximum run time and is operable in all sorts of environments, such as extreme weather conditions."
Ultimately the ability to hot-swap batteries comes into play, where the cameraperson can change batteries without powering down the camera or battery powered peripherals. "We have the accessory plate so you can hot swap pretty much all of our batteries now. If you look at broadcast guys, they love the Dionic."
Lighting Kits
Italian LED light maker Lupo has made inroads into the U.S. professional lighting market in recent years and Pete Challenger, who manages U.S. business for the company, says its Superpanel 30 1X1 LED panel is its most popular for news standups.
"They're the brightest of the 1X1s out there— bright enough to bring up the light on somebody's side of their face outside in the open on a bright sunny day," Challenger said.
The Superpanel 30 comes in a diffused and non-diffused version and each is available in either a Full Color model that can output variable color temperature light from 3200K to 5600K, or an RGBW model that provides more color capabilities and special effects. Challenger suggests that for newsgathering the best bet is the non-diffused 3200K to 5600K model.
"For the kind of stuff we're talking about, where you're running quick and shooting news, nobody needs the color capability," he said. "You're better off getting as much light as you can. It seems like you've never got too much, and you can always turn it down."
Superpanel 30s can be powered by a V-mount battery pack if AC power isn't available on location. And because the panel lights are so thin, they can be easily packed in padded cases Lupo sells.
Litepanels has established itself over many years as the light of choice for many run and gun operations, according to Michael Herbert, product manager at Vitec Production Solutions. "Our original 1X1 LED fixtures were lightweight, bright and easy to move around. They could be set up in an instant and could run off AC or battery power. In a pinch they could be hand held."
Litepanel's newest generation, the Gemini 1X1, has improved on the original. The Geminis are full RGBWW, incorporating tungsten chips, daylight chips, and red, green and blue chips. That allows the output of the light to be controlled precisely from natural white light to fully saturated RGBWW (red green blue warm white) output in an instant. Geminis deliver an adjustable color temperature of from 2700K to 10000K.
Gemini comes in two versions, Soft and Hard. The Soft provides a beam angle of 95 degrees while the Hard has a 46-degree beam angle that can be widened to 100 degrees by deploying a diffuser on its face. If a news crew could only carry one Gemini, the Hard might be best for filling in face shadows from the sun, or lighting a large space at a distance in the dark of the night, Herbert said.
The Fresnel lighting fixture has long been a staple of studio and large space lighting but BB&S has just introduced its Compact Bicolor Fresnel, a small LED Fresnel fixture suited for news and other on-the-go production crews.
"It has a high quality of light (97 CRI), low 40W power draw, and is fully bicolor," said Toby Sali, BB&S co-founder. "Where a 1X1 panel light can throw light about 10 feet, our Fresnel fixture pushes light out 18 feet or more. The beam width can be adjusted from 18 to 58 degrees. Color temperature is controllable from 2700 to 5600K."
Even though it sports just a small, 5½ inch lens and weighs 3½ lbs., the new light can use barn doors to crisply control the light on the talent. The fixture can be mounted on a light stand or camera, or even hand held.
Going Steady
A news photographer is going to get a much more steady shot if he uses a tripod, but setting up and balancing a fluid head can take time and cause a photog to possibly miss his shot. Drago Flores, marketing coordinator at Shotoku Broadcast Systems said his company's Truebalance feature speeds that process up.
"We put an external analog counterbalance indicator on our SX200 and SX260 fluid heads." Before the camera is even mounted on the fluid head, the Truebalance system can be roughly set visually.
"Once the camera is mounted on the head, final minor adjustments can be made so that the counterbalance is perfect. It takes most of the guesswork out of it." The indicator can act like a preset. For example, one setting for the bare camera, another with an on-camera light, yet another with a hot swappable battery pack, wireless mics, cellular modem systems, teleprompters, etc.
"What's great is that it's a perfect balance system. This means when the counterbalance is perfect, the camera could be operated and tilt-balanced without any drag at all. When you take your hands off the pan handles, the camera would remain stationary at any angle of tilt."
Vinten and Sachtler, part of the Vitec Group offer their flowtech 100 tripods for camera operators on the go. It features a set of two-stage carbon-fiber tripod legs with an easy-to-remove midlevel spreader, rubber feet, and a payload capacity of 44 lbs. Quick-release brakes located at the top of the tripod enable all the legs to be deployed simultaneously and adjust automatically to the ground's surface. A unique hinge-lock mechanism allows users to capture extremely low, ground-level shots, removing the need to bring a second set of "baby legs" to each shoot.
Barbara Jaumann, product manager-supports for Vitec Production Solutions explains what went into the 100, a follow up to the company's first tripod in the product range, the flowtech75.
"With flowtech100, we've taken everything that's great about flowtech75 and delivered it in a tripod geared to the professional 100 mm class of users, with the ability to support the demanding payloads of hard-working field news reporters and documentarians." l
The latest product and technology information
Future US's leading brands bring the most important, up-to-date information right to your inbox
The latest product and technology information
Thank you for signing up to TV Tech. You will receive a verification email shortly.
There was a problem. Please refresh the page and try again.