EVS' CTO Discusses IP, UHD, The Edge and More
'It's really important for us to know where we sit among our peers'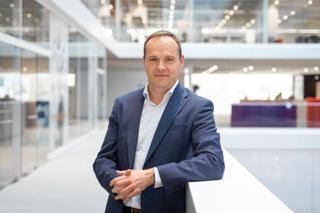 (Image credit: EVS)
EVS' chief technology officer Alex Redfern has been discussing some of the trends the company expects to see within the broadcast industry in 2023.
Redfern was speaking as part of a media briefing where the company's leadership looked back over what it had achieved during 2022 and its goals for this year.
Asked what he sees as some of the key trends for 2023, Redfern addressed a number of topics, including IP, Balanced Computing, UHD and cybersecurity.
Transition to IP
Redfern began by discussing IP, stating that while it's not necessarily the newest topic in the broadcast industry, the current trend is about the pace of transition and how quickly it is accelerating. "We've certainly installed a lot more IP-based systems, be they in fixed installations or now increasingly in trucks and mobile solutions," he said.
He added that the need for multi-vendor support is a key topic for EVS and will continue to be. "When you're in multi-vendor environments, it's all about observing standards, it's about understanding how to be interoperable with each other, and also not just observing the standards but each vendor's interpretation of the standards," Redfern added.
Last year EVS joined the Joint Task Force on Networked Media (JT-NM), taking part in the organization's interoperability which, Redfern says, enables the company to "know that we play well with everyone else".
"It's really important for us to know where we sit amongst our peers and how we can build solutions and integrate the solutions," he added.
"It sort of plays into UHD to a certain extent in that UHD doesn't necessarily make things more complex," continued Redfern. "It can make things bigger, obviously there's much more data but it doesn't necessarily make things more complex. We see the drive to UHD. Big tech players now are starting to want UHD. For a while in the industry, we saw an interim of 1080P, perhaps 1080P HDR was good enough, it can be up-converted. Now the big tech players are coming in saying it must be native. So that's a real drive on the UHD side."
In terms of balanced computing, EVS is seeing a trend towards the cloud and being able to support cloud solutions. said Redfern, However, in certain instances, he sees that balance shifting depending on the area. "XtraMotion Edge is a great example where when we announced the SaaS offering, it was the business model that was interesting to people," he added. "We deployed it as a SaaS offering in the cloud. And when people start to dig into the needs, what the customer actually needs, speed was the most important thing. In that instance, the cloud didn't offer the speed that was needed. So it was better to go to the edge than to have it in the cloud."
Flexible Control Rooms
Flexible control rooms are also an area where EVS is seeing growing interest. In 2022, the company announced a collaboration with Belgian broadcaster RTBF on a new flexible control room solution designed to increase operational flexibility, creativity and productivity across its TV, radio, and digital platforms. "It's a trend that we see evolving through the broadcast industry, the need for a much more flexible production space," said Redfern.
"It's really about decoupling the user experience of pressing buttons and interacting with hardware. The idea is that it can start with a single user doing a single-person show and expand perhaps to add on the graphics operator or audio operator and keep expanding dynamically as the show expands."
Redfern adds that this is something EVS is working on currently, with proof-of-concept testing ongoing. "It's very much driven by Cerebrum [EVS's broadcast control and monitoring system] and it's totally in line with our blueprint, the idea of picking up on things that perhaps we don't have yet but we want to build. It's a really fascinating project to see how that's going to evolve over the next couple of years."
The final topic Redfern discussed was cybersecurity, which he believes is something that the broadcast industry is becoming increasingly aware of following attacks on a number of broadcasters in recent years.
"A couple of years ago we took a stance and said, what can we do about this? The first thing we did was actually look for the people we could onboard and acquire some knowledge and start offering services around audit, detect, protect and learn," he added. "It was a kind of learning process of how we can investigate what our customers and our clients do and offer them services. That turned into a product, EV Shield, which was a TVBEurope Best of Show winner at IBC. It's something that I think in 2023 will be a real trend.
"With cybersecurity it feels like it's not a matter of if but when and not just for broadcasters but for all of us, including EVS," he concluded.
The latest product and technology information
Future US's leading brands bring the most important, up-to-date information right to your inbox
Jenny has worked in the media throughout her career, joining TVBEurope as editor in 2017. She has also been an entertainment reporter, interviewing everyone from Kylie Minogue to Tom Hanks; as well as spending a number of years working in radio. She continues to appear on radio every week and occasionally pops up on TV.