WISDOM selects Wheatstone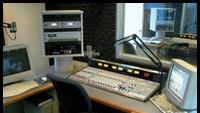 WISDOM Media Group, a global media resource located in Bluefield, WV, recently made the decision to consolidate all its offices, including administrative, programming, marketing, IT/Internet and production, into one location. The new facility was designed to follow the principle of feng shui in order to provide the optimum working conditions for employees, who would be moved into the building from five local office buildings. Construction on the seven-million-dollar, state-of-the-art facility began in May 2001. On-air operations began Nov. 25, 2002.

WISDOM chose two Wheatstone D-4000 digital audio consoles as the centerpieces of their new on-air studios.

Making the transition
During construction, all West Virginia operations were housed in temporary facilities. The greatest challenge was to allow for working studio/production facilities within the existing architectural design. Office space had to be re-allocated to accommodate two studios and a four-person interview booth. Installing suites in the existing architectural design tested the team's resourcefulness.
To begin, the suites had glass windows on three sides that required soundproofing foam and seals to be added to all walls and doors in the suites. Next, custom cooling and fire suppression systems were installed in the existing rooms and raised flooring was added to the two radio suites. Microphone stands and a console had to be designed and built to accommodate having one host and three guests, two video camera operators, and equipment within the existing space in the interview suite.
A new design
WISDOM served as its own systems integrator, designing the technical facilities of the new facility to provide for a streamlined workspace. New digital equipment figured prominently into the plans for the new facility; however, the network wanted to keep its options open should a need for analog arise. A digital router was installed to eliminate the need for D/A converters. TV and radio production capabilities were combined to achieve the best use of space.
They also wanted to ensure that the new customized, state-of-the-art equipment would work seamlessly with the pieces being brought from its previous studios. Some of their core legacy equipment from the former WISDOM Radio studios was ailing and unable to meet WISDOM standards. That which did pass muster was integrated into the new studios and became an essential part of the studio design. A small complement of legacy equipment – ENCO DADpro32 digital file playback – was integrated with the equipment purchased for the new router logic circuits to attain a new level of complexity, and a backup studio to ensure continuity in the event of a transmission failure. Some of the legacy equipment included: four Panasonic SV3800 DAT recorder/players, one Tascam DA-30MkII DAT machines, one Yamaha SPX 990 voice processor, Orban DSE7000FX, and the Telos 2x12 phone hybrid.
Handling audio
The unique nature of the multimedia facility operating under one roof required a powerful and flexible audio system. Two Wheatstone D-4000 digital audio consoles were chosen as the centerpieces of the new on-air studios. The D-4000's compact footprint provided a practical solution to their small space allotment. The console, new to Wheatstone's product lineup, offers totally modular construction, flexible configuration options and powerful mix-minus features in multiple frame sizes. WISDOM's team also preferred the console's analog meters over digital meters.

WISDOM operator Jason Frasher performs mixing for Carolyn Craft's radio program, "Inner Wisdom," using the facility's new Wheatstone D-4000.

With all the glass in the studios (for talent convenience and public viewing of the activities) WISDOM took measures to attenuate external sound from hallway traffic and removing unwanted sound reflections inside the studios. Some unseen considerations built in were three different levels of sound absorption materials in and on the walls. Special STC rated doors; glass and ceiling tiles were installed, along with baffled ventilation and carpeted raised flooring.
A Wheatstone Bridge router comprises the central router system. The Bridge was brought in to achieve a better interface and offer the upgradeability that the facility needed. The Bridge is capable of increasing routing functionality and can be configured in multiples of eight instead of 16, making the system extremely flexible. The drop-in console and rack-mount router X/Y control panels make "salvo" reconfiguration of WISDOM's shared studio microphones, automatic tracking of on-air tallies, and microphone talent controls between the control rooms easy. The router can also accept multiple network interface modules – each one transmitting 64 channels of simultaneous bi-directional digital audio (plus intercage communication, logic signals, X-Y controller commands and auxiliary RS-232 datastreams) across one duplex fiber optic link or a single CAT-5 wire. Production capabilities include being on-air with a remote host, being on-air live, editing and the capability to broadcast five shows at once.
Wheatstone's Wiremax wiring interface modules provided another solution for finishing the studio environment. With Wiremax, standard cables interface from the Wheatstone products to below-counter panels with XLR, removable screw terminal blocks and other common connector types, making installation fast and easy. Wiremax provided the interface needed to meet WISDOM's specifications with an off-the-shelf solution.
Craig Moore is an operations manager for the WISDOM Radio, and Jeff Horne is chief engineer for WISDOM TV and Radio.
The latest product and technology information
Future US's leading brands bring the most important, up-to-date information right to your inbox