Sachtler offers new SpeedBalance fluid heads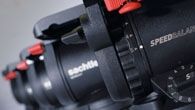 The SpeedBalance heads feature 10- or 12- step counterbalance, greatly reducing set-up time.

Sachtler introduces five SpeedBalance fluid heads with payloads ranging from 2.2lbs to 35lbs. The heads — Video 15 SB, DV 12 SB, DV 8/100 SB, DV 8 SB and DV 6 SB — offer high-precision and fast counterbalance for digital camcorder operators.
The heads feature 10- or 12-step counterbalance, reducing set-up time. In addition to finer counterbalance graduation, the heads also have an increased payload range, including a reduction in minimum payload, making them well suited for lightweight camcorders, such as those from the DVCAM, HDV and DV classes.
For more information, visit www.sachtler.com .