Belden introduces Brilliance Low Cap OFHC speaker cables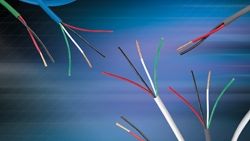 Belden's Brilliance Low Cap OFHC Speaker cables

Belden CDT Electronics Division has announced a new addition to its Brilliance line of professional quality audio cables.
Brilliance Low Cap OFHC Speaker cables use high-conductivity, oxygen-free, copper conductors that are inherently free of impurities. The cables use low-capacitance polyolefin dielectric to ensure a high frequency response, even over extended distance cable runs. The new speakers are available with 10-, 12-, 14-, or 16 AWG bare copper conductors and feature round, brightly colored and satin-finished PVC jackets.
For installers, Belden Brilliance Low Cap OFHC Speaker cables offer benefits, as well. Their highly stranded conductors and PVC jackets provide optimal flexibility for faster, easier installation. Colored jackets, with ascending/descending sequential markings at 2ft intervals and print legends incorporate location information, and also facilitate accurate, streamlined installation.
For more information, visit www.belden.com.