Vinten Radamec unveils FHR-100 Fusion robotic head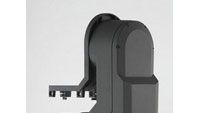 Vinten Radamec has introduced the FHR-100 Fusion, a medium-payload robotic head that is well suited for standalone use or integration with Vinten Radamec robotic platforms.
The FHR-100 can be integrated with Vinten Radamec's new FP-145 robotic pedestal, FPH-145 integral height drive and FBH-175 bolt-on height drive.
The FHR-100 includes the features of the Vinten Radamec FH-100 Fusion robotic head except for manual operation. The head contains its own power supply unit, allowing for power to be taken into the head conveniently either from a pedestal or directly from the studio.
For more information, visit www.vintenradamec.com.