NEP Finland Chooses NetOn.Live's LiveOS Production Platform for Lotto, Eurojackpot Broadcasts
Production team needed a system with flexible resources that could be easily redeployed and customized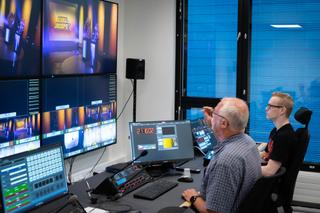 (Image credit: NEP Finland)
As part of NEP Finland's recent move to its new headquarters, the company built three new studios and five control rooms in Helsinki's western Pasila district. One of the central goals in building these state-of-the-art, IP-based facilities, was to automate and streamline production for popular weekly shows such as the Finnish Lotto and Eurojackpot that NEP produces for Veikkaus, the Finnish national betting agency.
The Challenge
Jyrki Lepistö, deputy managing director at NEP Finland, oversaw the search for new technology that would not only achieve the company's automation goals, but also reduce expenditures while future-proofing productions for maximum flexibility including remote and higher resolution workflows.
To maximize their investment, Lepistö's team wanted a system with flexible resources that could be easily redeployed and customized to suit the production. As remote productions have become increasingly popular, the team also wanted a system that could be potentially controlled from any location using the open internet and a browser-based user interface.
The system should be capable of running on non-proprietary, COTS hardware in a datacenter type environment. Resources should be easily sharable with the ability to spin up and spin down processes as required. Most importantly, operators wanted a low-latency system that was easy to transition to without a steep learning curve.
Finding the Best Fit
Since NetOn.Live's LiveOS platform is software-based and operates in a pure SMPTE ST 2110 IP ecosystem, it was considered the perfect fit to transition the Lotto and Eurojackpot productions into more streamlined and automated workflows. "LiveOS represents a tremendous value for us. It has all the features we were looking for with room for expansion.," said Lepistö.
Lepistö's team also liked the fact that LiveOS could be used remotely almost immediately giving the group a freedom of deployment previously impossible to achieve.
"Unlike purpose-built proprietary systems of the past, we simply bought a few computers with software and some network switches, installed them in the datacenter in the basement and we were ready to go," said Lepistö.
Integrations and Automation
NEP requested that SPX Graphics by Softpix, an HTML-5 based application, be the graphics engine to be used within LiveOS. The first significant task for the NetOn.Live team was to seamlessly integrate the graphics engine into the LiveOS platform.
The flexibility and the shareability of LiveOS has enabled the production team to design production templates that can be instantly deployed. Switching from the Lottery production to Eurojackpot production simply entails spinning up the current project while spinning down one that is no longer required.
The new production workflow requires fewer physical and human resources to produce a seamless production at a fraction of the cost. Operators can modify their layouts as they want to further streamline their views and tools.
"Being able to customize and share means we no longer require dedicated multiviewers for everyone," said Jukka Keski-Loppi, CEO of Pipeline Media, a systems integrator specializing in broadcasts workflows. "We can share things like timers, so the director knows when the B-roll is ending, and we don't need to have dedicated clocks and timers in the galleries. Everything can be built into the user interfaces as required."
In addition to automating cameras and setting shots, the production team is also able to automate graphics. For example, for the Eurojackpot production, the winning numbers are provided by the Veikkaus server and automatically populate the lower thirds, helping to provide a seamless and error free experience.
A Template for the Future
As with most things, change can be difficult for people used to doing things in a certain way. Not unsurprisingly, some members of the production team were initially reluctant to learn a new system. "In the end, the transition for the team was surprisingly easy because the user interface is so intuitive and modern compared to the old software they were using," said Lepistö.
Lepistö and his team are confident they can automate even more capabilities as time goes on. "The system is now resolution independent, so we can do 1080p HD or even UHD HDR productions as required simply by changing some parameters in the configuration," said Keski-Loppi. "In this way, we've provided NEP with a future-proofed system."
If NEP wishes to expand their system, they don't need to buy dedicated hardware for playback channels, recording capacity, multiviewers or graphics and no extra cabling. It's simply a matter of adding more horsepower in the server cluster. Everything is under one umbrella and a single point of development, so there's no need to worry about version mismatches between equipment and third parties.
"We're happy to report that the price of production is significantly lower with the NetOn.Live system," concludes Lepistö.
For more information on LiveOS go to: https://www.neton.live/solutions/
Get the TV Tech Newsletter
The professional video industry's #1 source for news, trends and product and tech information. Sign up below.