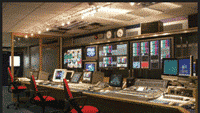 Digital television in the UK has been through a troubled patch recently. The failure of subscription DTT damaged the government's analog turn-off plans, proposed to be around 2010, and lost its partners Carlton and Granada E1 billion.

In the BBC's interactive production area, a 128x128 SDI matrix provides video routing to two Grass Valley DD35 mixers and to 50-inch plasma screens via Zandar multiviewers for monitoring.

The BBC, Crown Castle International and BSkyB won the fight to resurrect DTT. In October 2002, Freeview, a free-to-air replacement service, was launched.
The rapid uptake of digital TV now needs to be encouraged and promoted — by both the government, so that analog can be turned off on schedule and its spectrum auctioned to the highest bidder, and by the broadcasters promoting the benefits as a way to increase audience share.
Key features of digital TV currently being promoted are interactive content and widescreen programming. The challenge is to be able to generate and transmit interesting and complementary interactive content as economically as possible, and with an infrastructure that can easily be expanded and enhanced in the future.
Programming
Interactive content can be provided to the viewer in different ways according to program type. For large-scale live events such as sports or concerts, alternative camera angles or feeds from other matches could be transmitted. Existing feeds could be repurposed, such as audio from radio commentary combined with TV OB pictures. The key is intelligent use of all existing feeds rather than generating additional costs by expanding coverage. Staffing costs need to be kept to a minimum, so memory and recall of complex settings across a number of devices is desirable.

A combination of traditional CRT monitors and a Barco Hydra projection system provide video monitoring in the BBC's multistreaming area.

Transmission
Once created, the interactive content needs to be presented to the viewer through the set-top box (STB) in an easy to understand and intuitive format. This traditionally would require vast amounts of resources such as mixers, keyers and CGs to generate a menu page giving an overview of the currently available channels, although a number of devices are now available offering combined functionality. The menu page would need to change to reflect the varied content across different programs, preferably using templates.
Automation and the ability to run separate playlists for each interactive stream is essential, as one operator should be responsible for the output of a number of streams. Dynamic control of the playlists should be available to cater for late changes.
On-air presentation requirements are generally simple, and simple cutting on the station matrix will suffice in many cases. Branding of the outputs using logo generators would probably be required, together with widescreen signalling on each stream so that 4:3 and 16:9 feeds could be accommodated and correctly displayed to the viewer.

The BBC's multistreaming area uses the OmniBus Colossus multichannel automation system.

Interactive production area
At the BBC, interactive content for live events is generated in the interactive production area (IPA), a dedicated suite of control rooms adjacent to the Sport Studio at BBCTV Centre, and transmission takes place in the multistreaming area (MSA).
In the IPA, video, program audio and clean M&E audio from outside broadcasts are fed to the area, together with radio and television commentaries.
A 128x128 SDI matrix provides video routing to two Grass Valley DD35 mixers and to 50-inch plasma screens via Zandar multiviewers for monitoring. A 384x128 analog matrix provides audio routing to both a sub-mix area comprising two 16-input Behringer sub-mix desks, and to the main 32-channel Yamaha DM2000 mixer.
Two edit suites are equipped with comprehensive patching to allow the dry hire of slo-mo or edit equipment as required, and two local commentary booths are available to generate commentary specific to the interactive output.
The BBC BNCS control system provides video and audio routing, multiviewer assignment and UMD labelling, ARC control, and control of all the Vistek interfacing glue.
While the area primarily produces live output, it also has access to a number of ports on the Omneon server located in the MSA and can record packages for later transmission.
The IPA can currently produce up to six SDI and embedded audio repurposed feeds, routed via an output matrix to the MSA.
Multistream transmission area
The OmniBus Colossus multichannel automation system is used within the MSA, and a key Colossus feature is the ability to move transmission control of individual channels both between operators and between different physical areas. Control of the interactive streams needs to be available from both the IPA during live events, and from the MSA during other programming. The MSA supervisor station can assign control between the main area and the remote IPA Colossus user terminal as required.

Omneon server ports allow match highlights to be shown when play is disrupted, in addition to the usual trails and stings.

The menu page giving the overview of all channels is generated using the Publitronic Delta system. Cascaded processing cards are used, each one generating a mini pic of the channel, with interactive text adding stream information and live updated sports scores.
As the viewer scrolls up and down the menu page, the audio output follows the highlighted channel. A number of cascaded embedders are used so that all the audio feeds can be embedded in the correct order in a single SDI circuit to be passed to the coding and mux equipment.
The transmission and output chain architecture is kept simple. Each output chain has a frame synchronizer to correct source timing, an AFD inserter to indicate aspect ratio to the STBs, a logo inserter to brand the output when required and a digital text inserter. Automation playlists are run on Colossus for each of the channels, the sources usually being cut to air directly on the matrix. Two presentation mixers are available if crafted transitions are required, and these can be seamlessly switched in and out of circuit as required.
Omneon server ports enable match highlights to be shown when play is disrupted, in addition to the usual trails and stings. Access is available to networked graphics devices for captions and stills. Some resilience is needed against equipment failure, and by adopting an "n+1" strategy, the cost can be minimized. A spare output chain is provided for each six on-air chains, and transmission can simply be transferred between chains, either by running the schedule on another automation channel or by replacing the equipment in the channel "device pool."
Video monitoring is provided by a combination of traditional CRT monitors and a Barco Hydra projection system. Automatic monitoring of the stream outputs is carried out using Eyeheight "Eyesight" cards. This is a convenient building block system enabling video and audio signals, AFD codes, closed subtitles, etc. to be monitored, while only needing to purchase the specific functionality needed per channel.
Future expansion
Interactive coverage was first offered for Wimbledon 2001, and it received positive public feedback. Following completion of the MSA facilities, interactive capacity was doubled, allowing content to be transmitted simultaneously for a number of primary channels. In addition, many documentary and current affairs programs now have interactive content commissioned together with the main program.
Future expansion of capacity is planned in the near future. If costs can be strictly controlled, then interactive TV is an excellent way for broadcasters to offer additional services to the viewer and increase market share in the process.
Alan Pimm is the sales director for ATG Broadcast.
The latest product and technology information
Future US's leading brands bring the most important, up-to-date information right to your inbox