Gravity Media Adds Fujinon 4K Lenses to its Inventory
Media production company most recently used the new box lenses to cover Australia's Repco Supercars Championship races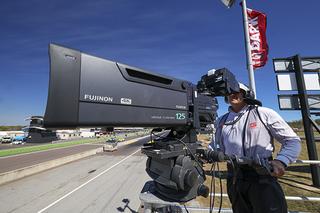 (Image credit: Gravity Media)
SYDNEY, Australia—Gravity Media, a global media production, creative service and facilities company, has added several Fujinon 4K lenses to its inventory, using them to cover Australia's Repco Supercars Championship races.
"Our requirements were to upgrade the fleet of our large lenses from HD to 4K standard, with an industry leading manufacturer, said George Hennessy, Gravity Media's Broadcast Project Manager – Supercars. "Our criterium was based on the robust and dynamic environments of both outdoor fast-moving sports such as Supercars and Touring Car Racing (TCR) in locations around Australia through all months of the year. After a full and comprehensive assessment of all available 4K large lens options, Fujinon's UA125×8BESM and UA107x8.4BESM lenses were deemed the best and those that met our requirements perfectly."
As well as covering Supercars races Gravity Media said it also has many productions in light entertainment with studio-based shows that require the camera and lens to operate and perform in highly dynamic lighting conditions with contrasting set and lights demanding the very best the industry has to offer.
Hennessy continued, "The motorsport calendar of Supercars and TCR takes the season of racing from sub-tropical to sub-Antarctic locations and experiencing all weather extremes. Heat haze with high humidity in some locations with cold winter weather and foggy conditions in other areas of the country require broadcast lenses not only able to perform in optimal conditions, but more importantly also in highly challenging atmospheric conditions when they are called to still perform and cut through these environmental challenges.
"The cameras we use with the lenses are not only for the live action, but also extreme slow-motion replays with both foreground and background framing to shot composition vital to the production's storytelling narrative," he added. I'm happy to say the new FUJINON 4K box lenses suit and meet these styles and requirements perfectly."
Fujinon's UA125×8BESM achieved both the highest magnification 125x and 4K optical performance of any zoom lens and the UA107x8.4BESM was specifically designed to produce 4K UHD performance from the latest 4K 2/3″ Ultra HD cameras. Both lenses are ideal for live sports coverage particularly when they are used together in a production, the company said.
Most recently Gravity Media used the UA125 and UA107 lenses at Supercars races in Darwin, on the Gold Coast and in Adelaide.
"On the Gold Coast Street circuit we used six of our new Fujinon lenses on field of play cameras to shoot field coverage of the Gold Coast Street Circuit," Hennessey explained. "Typical shots included fast panning and long throw zooming to tight shots from 400 metres down to 15 metres in distance. The Fujinon lenses gave good throw and could easily go further if needed.
"The lenses performed brilliantly with zero issues despite very high temperatures and significant humidity," he added. "It was the same story for the Adelaide 500 where we used eight of the Fujinon lenses in a similar way for similar shots and again, all of the lenses performed perfectly and without any issues."
The latest product and technology information
Future US's leading brands bring the most important, up-to-date information right to your inbox