da Vinci to unveil new Resolve features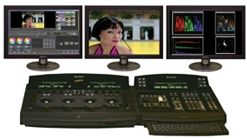 New Resolve digital mastering enhancements include the da Vinci exclusive PowerPlant massive bit-processing programmable hardware.

da Vinci will introduce new features for the Resolve digital mastering suite of tools at IBC2005.
Resolve improves da Vinci's family of color enhancement products with program-conforming tools designed specifically for the digital intermediate (DI) environment. Resolve's open architecture allows the browsing and selection of image data from a LAN/SAN or local storage. After importing EDLs, the system conforms this material, adds in-context color enhancement and produces a conformed master.
Acceleration with da Vinci's PowerPlant massive bit-processing programmable hardware allows real-time, multi-layered color correction on full-film-resolution images, not just proxies.
See da Vinci Systems at IBC2005 stand 7.330, or visit www.davsys.com.