Butcher Bird Studios Relies on Blackmagic Design Converters
When dealing with so many different types of production workflows, signal conversion is key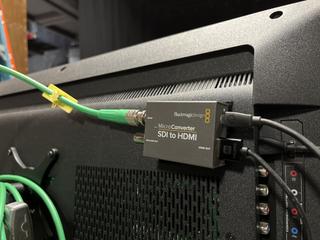 (Image credit: Butcher Bird Studios)
GLENDALE, Calif.–As a premiere full-service creative and production studio, Butcher Bird Studios handles a wide range of production styles, from streaming and AR/VR to cutting edge virtual production strategies. While we frequently produce fairly standard content for a variety of clients, we have become known for creating live interactive virtual events for customers such as Legendary Digital, Netflix, Twitch and more.
When dealing with so many different types of production workflows, signal conversion is key and it boils down to three main areas: SDI workflows in an HDMI world, video game capture and in-studio monitoring.
When operating in the live space, using SDI is imperative since it does not require an electric handshake and it locks. It can be barreled, run at great lengths and it's durable. It's just so much more reliable than HDMI in every way and more convenient than fiber. However, your average monitor or television isn't going to come with SDI capture hardware.
Mini & Micro Converters
Enter Blackmagic Design's Mini Converters and Micro Converters—we rely on a variety of models including SDI to HDMI, HDMI to SDI, BiDirectional SDI/HDMI and SDI Distribution, all which make it possible to spread feeds across the studio.
When it comes to video game capture, Butcher Bird produces an enormous amount of content. Typically, our production switchers are SDI, while video game consoles are HDMI. We convert signals in all sorts of ways so that we can switch to the gameplay feed in our production, all with no input lag for the gamer.
Hidden Away
Obviously, I have lots of Mini and Micro Converters, so they sit in a drawer that is meticulously organized by use, type and resolution. I have a Micro Converter velcroed to every television in my production space to allow SDI into it, powering off the set's USB port. Additionally, my Blackmagic MultiView 16 sits in a rack with my Ultimatte 12 4K compositing processors, so I can monitor each piece of our greenscreen keying workflow.
With this in place, I can achieve massive video distribution and monitoring, both for camera professionals and clients. I think of the converters as the building blocks of my signal flow workflow. With Micro Converters, I can turn every television and monitor in my studio into an access point for a client or crew member to monitor.
Since I work in the live space, this is very important because virtually every person in the building needs to be able to see the program feed instantaneously to contribute to the show. This would not be possible without video and signal conversion. l
For more information, contact Blackmagic Design at 408-954-0500 or visit
www.blackmagicdesign.com.
The latest product and technology information
Future US's leading brands bring the most important, up-to-date information right to your inbox
Griffin Davis joined the full service creative and production studio Burcher Bird Studios in 2017 and has been a producer and technical director at Butcher Bird Studios since 2020. During that time, he worked on such projects as Netflix "Geeked Week," the /twitchpresents channel for "Glitchcon," and "Fortnite Is Gone." Prior to joining Butcher Bird Studios, he worked as a production coordinator at KCSB-FM in Santa Barbara and was the editor in chief of the Gaucho Marks Magazine. He can be reached at or 803-528-3288. For more information, visit https://butcherbirdstudios.com.